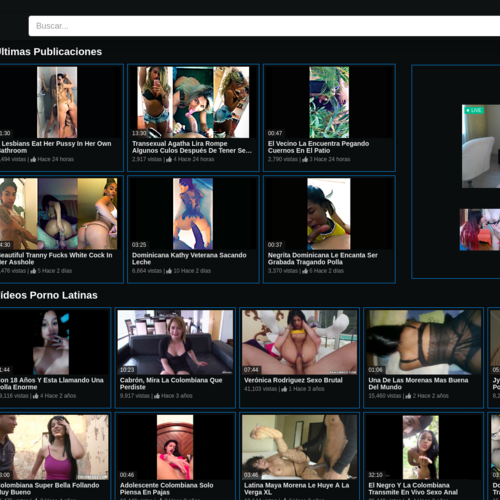 Xnalgas
Xnalgas.com is a Spanish site filled with loads of naughty videos featuring the hottest Latina chicks, and I am sure that you will love this place as much as I did. There is a lot to be said and even more to be seen, so let's get straight to the point, shall we?
Even though I have stated that the site is in Spanish, do not let that discourage you from viewing their shit, because you do not need to speak Spanish to fap to these incredibly hot videos. If you really want to know how their shit functions, you should just continue reading, and if you want to get straight to the point, you should skip ahead.
The design is quite slick and simple, which is why I think that you will enjoy what this place has to offer. In most situations, people care about the design as much as the content, and I am one of those people. Just because you offer free shit, does not mean that your site needs to look cheap as fuck. Creating an aesthetically pleasing site should not be that difficult, don't you think?
Well, this site looks quite nice, and I am sure you will think the same. If you were expecting anything more than what they offer from a free porn site, you should just browse the premium sites instead, because your standards are way too high for the free porn sites. I like their overall dark layout because it makes the nightly browsing much easier on the eyes… and we all love to fap at night.
The homepage will be filled with random videos, and right off the bat, you can see that most of the videos, if not all, are amateur porn clips, and that is not a bad thing. Sometimes, what we really want to see is some genuine banging with voluptuous Latina chicks in their natural habitat… aka riding a hard-pulsating pole for lunch.
The first thing I really disliked about xnalgas.com, is the fact that you cannot view shit here until you disable your ad-block… after that, you know you are into some crappy experience. I love disabling my Ad block and having to watch a 15-second ad before every fucking clip… yeah, that really adds to the fapping experience I was fucking looking for.