Porno Carioca review
back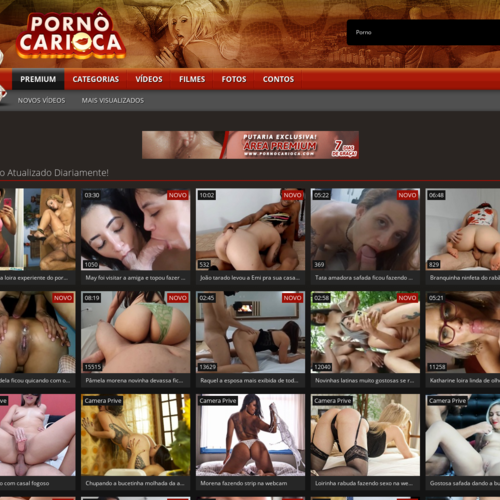 Porno Carioca
Porno Carioca uploads content every day and has thousands upon thousands of videos, films, and photos. Although they offer primarily amateur videos and pictures, they also have a sizeable collection of professionally produced porn movies (not to mention the erotic stories). The only real limitation that PornoCarioca.com puts on its content is that it must have been produced in Brazil.
The site's layout and design will look fairly familiar to anyone who has ever been on a porn tube site before (such as Xvideos, Porn Hub, or Red Tube). On the home page, you have a black background, a banner up top, a menu bar, a gallery of video thumbnails in the middle, and a list of linked categories at the bottom. Pretty standard stuff.
The banner features a stylized and heavily filtered collage of porn screenshots as a backdrop to the site's logo. Next to the logo is a cartoon dude, something of a pimp in a white and red suit, tipping his fedora and cheesing. Maybe it's just his goatee that makes me say this, but he kind of looks like a douche.
As far as the menu bar is concerned, you can choose from Categories, Videos, Movies, Photos, and Tales. Below that, you can decide how you want thumbnails to appear. Either by Newest Videos, or Most viewed. Again, pretty typical for a porn tube site like this. Nothing out of the ordinary.