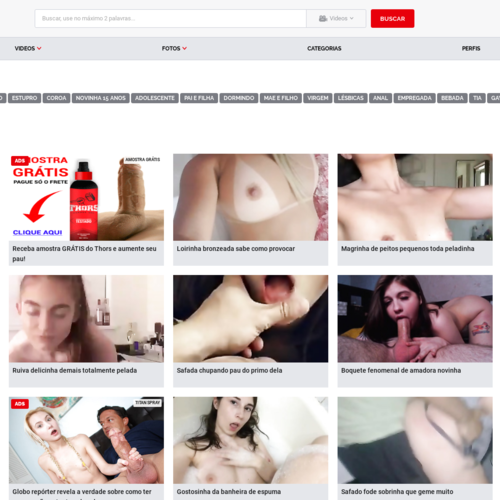 CNN Amador
The design of CNNAmador.com is nice, as it features some cute animations and non-distracting assets. One thing that bugs me about the whole ordeal is the little red bar above the tabs. It just has a buggy trajectory and I don't really see how it can be enjoyable to see it stutter along its path as you hover over all the different tabs to see your choices when it comes to navigating the site. It's just a gimmick but I don't even think it works that well, so yeah, I don't like it.
One thing that I do really like though is the fact that CNNAmador.com includes a night mode. Now you guys are well aware that I'm a huge fan of dark modes and night modes on porn websites. It's just so much easier on the eyes when you've got a dark background. It's also less distracting from all the sexy thumbnails that you get to look at when you're making your choice of what to watch. The night mode is set by default on this site, but you always have the choice to switch to light mode at the top of CNNAmador.com.
Perhaps one more thing that I don't like about this place is the fact that there are too many tags on the homepage. I know that they wanted to make finding relevant videos on CNNAmador.com as easy as possible, but they made the site look cluttered and busy in the process. All this noisiness can be improved if they simply limited the number of tags that shows on the homepage to maybe 10 or 15 at most. That would make CNNAmador.com look way better than it does right now.