ShemaleStarDB review
back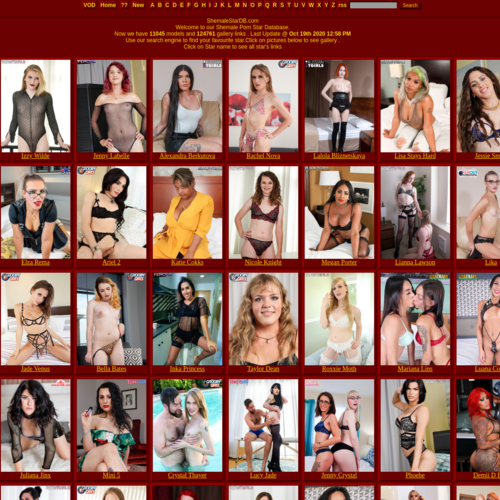 ShemaleStarDB
Up top, you've got some more options. You can hit the VOD button to get taken to another site with videos, use the ?? button to get taken to galleries where the model has not been identified, or hit new to see the newly uploaded galleries. There's also your traditional search bar, along with buttons from A-Z if you want to navigate the galleries that way. All of the galleries are titled by the model's name, so the search bar is actually pretty useful. It's easy to find exactly who you're looking for. Especially compared to other sites where users name the galleries stupid shit like "babe cock" or "Petite girl gets fucked." Like, yeah, thanks. That's so fucking useful to me.
The site has over 10 thousand models and around 112 thousand gallery links that are updated pretty frequently. So, let's talk about those. The previews show you the first picture from that gallery and who is in it. Unfortunately, that's it. No picture count, upload date, user rating, view count, or anything like that on the thumbnail. You do get most of that information when you click through, but it would be nice to at least have the picture count so that I knew what I was getting into. Though you can generally expect there to be around 8-12 pictures.
And the gallery is confusing when you click to it. You get taken to what at first looks to be a different site, but it's actually the same one with a completely different design. Why? The site turns into one with a white design and a whole new list of header options. There are buttons for Home, Pictures, Movies, Models, Categories, and Tags. But the only headers that work are Home and Models! The other tabs don't do a goddamn thing. And the ones that do work just take you back to the main site page. I tried clicking on each one like 20 times and nothing happened. I don't know if they are in the middle of a site redesign or what, but they need to get their shit together and fix whatever is going on there.