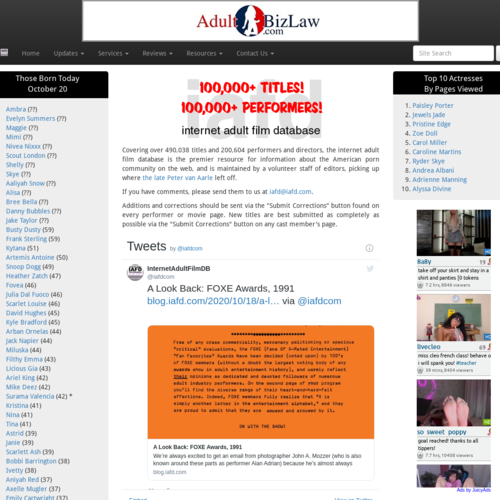 IAFD
Which is why we go to sites such as IAFD. IAFD, or the Internet Adult Film Database is essentially the IMDB of the adult entertainment world aka porn IMDB. It is a database of adult films, actors, and actresses, but it so much more than that as well. It is also a resource for adult video news, useful resources for all things adult entertainment, a regularly updated blog with fascinating articles, and a place to read adult film reviews. You won't be able to actually watch any porn on IAFD. But that's okay, you will be linked to sites from which you can purchase the movies found in the database (or any halfwit web surfer can find free versions with just a little bit of tact and know-how).
The site's design is nothing too amazing. They have opted for a simple white background with black text down the center of the page. To the left, you will find, interestingly enough, a list of porn stars who were born today (in case you feel like wishing them a happy birthday by cumming to them). Below that list, you will find a box dedicated to the Top 10 New Web Scenes, Most Recently Added and the Top 10 New Gay Scenes, Most Recently Added.
On the right side of the page, there are a few more list-containing boxes: Top 10 Actresses by Pages Viewed, Top 10 Titles by Pages Viewed, Top 10 Web Scenes by Pages Viewed, Top 10 Actors, Top 10 Reviews, Top 10 Galleries, and Top 10 Directors. These easy to access top 10 lists make it really easy for anyone to get a good sense of who's who and what's what in the adult film industry. They also provide some very useful insights into what is trending at the moment … not to mention some great recommendations of girls, scenes, and directors to check out.
Dead center of the home page is a news feed which posts directly from the IAFD blog, keeping users up to date both with the happenings of the adult industry and IAFD itself. Here, you will find articles on the 2019 AVN Awards, the most prolific performers in porn, and a sprawling list of solid Christmas porn (broken into categories of straight, gay, and trans).