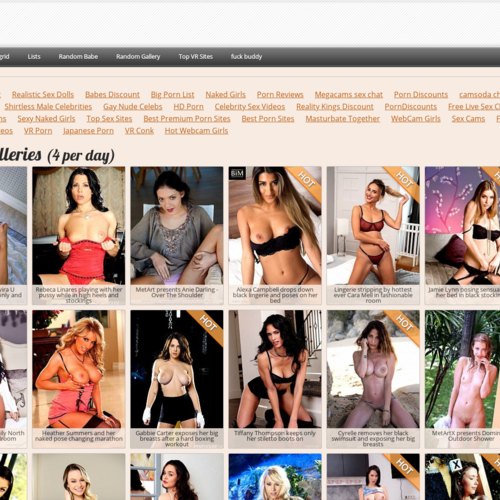 Babepedia
Near the bottom of this site's homepage is a nifty little 'Babes Index' section which is probably the only way to categorize the fuckton of babe galleries that are on this website, which is kind of disappointing but I'll get to that later. If you've been jerking it to internet pornography for years now and have a solid knowledge of model's names, you should definitely take advantage of this useful little mechanic because it indexes literally every babe that's featured on this website in alphabetical order. So if you're down to jack off to a certain Gina Valentina, Kleio Valentine or Janice Griffith, you know exactly where you should go in order to find their photosets with just a few clicks.
I know that sometimes it can be hard to select your porno of choice no matter if it's scat videos or nude galleries of babes – if you're someone who can't make a choice to save his own life (or even go out and get a girlfriend), and if you have difficulty determining which girl you're going to blow a load to during your special alone time, you might want to consider depending on the site's statistics. The 'Best Galleries' section, which can be found right on this website's homepage, contains galleries of girls that were liked most by the site's prestigious members. So if you can't make the choice then why not let likeminded people such as yourself help facilitate the choosing process for you – after all, these galleries were upvoted the most by people who frequently jack off to content on this website, so why wouldn't you trust them?
If you're not someone who prefers to search for a specific girl and doesn't trust the site's members enough to depend on the 'Best Galleries' section for a virtual girl to jack off to, then you might just want to use the 'Babegrid'. This is a page of the site which can be found on the top navigation section of the website, and what it does is present you with twelve different girls for you to choose from. Think of this as like a babe gallery lottery, but with twelve girls instead of one.
Not all the babes presented are guaranteed to have galleries, and you never know what you'll get in terms of quality because some have shitty pictures while others could be censored, or even linked to different websites altogether. But you're literally taking a chance with sheer luck here, so what you get is what you get – unless of course you refresh the page and get twelve new girls to peruse through. However, sometimes even twelve girls can present too much of a choice for some of you, and if you prefer to narrow your random choice down to one girl there's always the 'Random Babe' option…