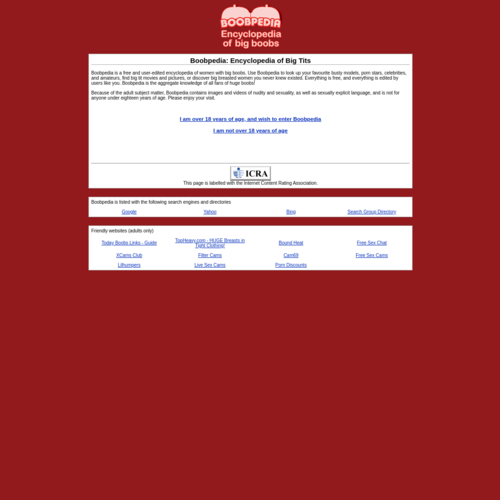 Boobpedia
You know, with this text-heavy layout, one thing I do not miss at all is big spammy banner ads. They've got some outgoing links to Friends of Boobpedia and more "big boob sites of interest", but nothing taking up more space than it should on the page. In fact, everything takes up the exact same amount of space on the page. Nice and clean.
It really lends to the pseudo-intellectual appeal of the site. This wealth of breast-related information doesn't try to aim your attention in one direction or another, but merely presents you with the facts. I'm about to look at some naked photos of beautiful women, but I'm totally doing serious research, too. You can tell from all the words and shit.
Like Wikipedia, all of the information on Boobpedia is provided by users. Their mission statement at the top of the front page lays it out pretty clearly. The sites about boobs, plain and simple. It doesn't matter if they are busty models, celebrities, porn stars or even amateurs. As long as they have big titties, they belong on Boobpedia.
Sex websites that run on user contributions are often hit or miss. It really depends on the quality of the users and what they have to offer. I once spent hours trying to beat off to hairy grandma pics because I picked the wrong amateur site. Boobpedia gets 8 million visits a month, so hopefully, that's enough traffic to bring in the good shit.
This is a sprawling database, so it's hard to know exactly where to start. Do I want to look at Today's Birthday and have a little celebration of my own, or should I check out Today in Boob History? I can also jump to the Big Breasted Playboy Playmates, Big Breasted Japanese AV Actresses, or I could keep it indie with the B-Movie Actresses. About a dozen page categories like Website, D Cup, Natural Boobies and BBW are grouped at the top of the page, with a link to the full list.