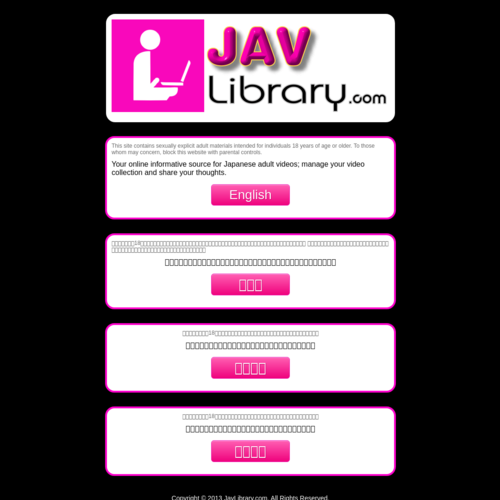 JavLibrary
Porn aggregator sites, on the other hand, will be good for the pornoholic who has a little extra time on his hands (time that he hopes to, eventually, turn into cum on his hands). Porn aggregator sites do exactly what their title suggests. They aggregate porn from various sources. One could easily fall down the rabbit hole of clicking on one video, being led to another site, clicking on videos on that other site, being led to another site, etc. This could go on for hours.
Porn aggregator sites are great, however, for the porn addict who craves variety or just wants to find a new go-to free tube site. I can't even begin to tell you how many awesome little-known porn sites I have discovered from clicking through aggregator sites. It's a great way to stumble upon new sites, girls, studios, or kinks. They're great for discovery.
There is another type of porn site out there, though, that is far less common than tubes or aggregators, yet just as useful for accomplishing a different goal. The porn library or archive site is great for the porn addict on the verge of becoming porn connoisseur. Such sites are awesome for learning everything there is to know about your favorite girls, films, studios, etc. Although the focus of these sites is not necessarily on viewing the porn in question, there needs to be a resource for gaining knowledge on the porn that we love, and porn libraries do exactly that (and more).
Jav Library, for instance, is a porn library site dedicated to comprehensively chronicling all things Japanese porn. Their aim? Making your life as a JAV porn connoisseur easier. They help you to sift through the millions of Japanese pornos that exist on the web, allowing you to keep your collection organized while keeping track of the movies you like and might be interested in buying.
JavLibrary.com also helps porn viewers to never forget the name of a video again. If you watch as much porn as I do (and I know you do), chances are you've been in a situation where you've seen a thumbnail for a video or a cover for a movie that you cannot, for the life of you, recall the name of. Well, Jav Library seeks to help make sure that this never happens to us again. Simply add a video from their library of titles to your favorites list, allowing you to easily keep track of the seemingly infinite number of pornos out there.