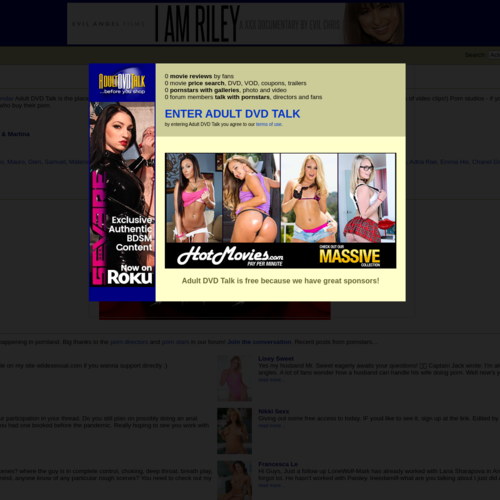 AdultDVDTalk
Sadly, sex (and, therefore, porn) is still almost a universally taboo subject. Of course, when watching porn is one of your main activities, this doesn't change the fact that it is something highly desirable to talk about. It only means that one of your favorite hobbies must largely remain all but a secret, only to be shared with certain like-minded bros. But, even then, it's not like a lot of dudes want to have in-depth, face to face conversations about the details, the camerawork, the production quality of specific pornos.
If only there were porn clubs the way that chicks have book clubs – communities with which you could meet up with and discuss a given porno once a week or month. 'Well, I found the symbolism of the dick in the pizza box in scene 2 to be a particularly scathing commentary on the hyper-sexualization of masculinity that is inherent to capitalism…' Ha! Could you imagine?
Well, porn clubs may still not be a thing (nor am I sold on the fact that they ever should be), there are certain online resources, online communities, for you to get out all of your porn conversation with – letting you get all you have to say about your favorite pornos off your chest in a safe and appropriate setting, so that you to go out into the real world without risking ending up a registered sex offender or some shit. There are plenty of porn forums and chat rooms and subreddits out there – places, where you can be your naturally creepy and porn-addicted self without shame, for you, will be surrounded by other likeminded people who also do very little outside of watching hours upon hours of porn.