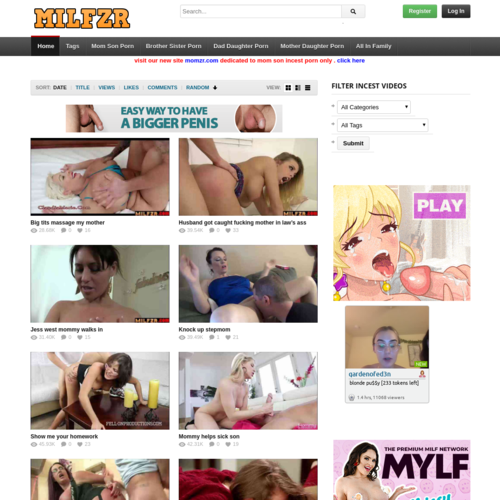 Milfzr
Milfzr is a site solely dedicated to incest porn. You won't find any other bullshit here. Just incest, incest, and more incest. All of the videos here are specially curated to be only the best of the best incest porn. There are gems like "Mother Caught You Using Her Credit Card," and "Satisfying My Boy's Cock." You get where I'm going with these. It's not like on other sites where the title is the only thing that makes the video "incest." Every video here has all the saucy, fucked-up dialog you could ask for.
Okay, let's get into this shit. The site is way too bright. Super white background. If you're browsing this at night you might have to wear some sunglasses. It's like staring into the fucking sun. Once your eyes adjust, you can take a look at the home page. It's pretty much what you would expect. It's a simple layout with thumbnails for their newest videos. All of the thumbnails are still images, so if you wanted to peek without committing to a vid then you are out of luck here.
If you don't want the newest stuff, you can sort by views, likes, comments, or take a spin and go for a random selection of videos. Once you sort it however you want, each thumbnail shows the number of views, comments, and likes that the video has. There's no option to view the video length or if the video is going to be in HD or not, which is pretty stupid. Every site usually has those options! Why do I have to click through to the video, which is no easy task on this site, to find out if I'll be watching a 2-hour 320p video versus a 10-minute 1080p one? Speaking of 1080p, there's no quality setting on any of the videos even after you click in! I don't know what definition these are in, but it's not great.
If you can't find what you want on the front page, then fear not because they have a categories tab up top to narrow it down. You've got tabs for Mom Son Porn, Brother Sister Porn, Dad Daughter Porn, Mother-Daughter Porn, and All in family. I'd explain each of these, but I think you what the fuck to expect here. If you don't just want plain old incest, you can scoot over to the tags page and search by factors like "cum in ass," "gangbang," or "big boobs" just to name a few. They aren't official categories or anything, but you can search every video tagged with one of these.