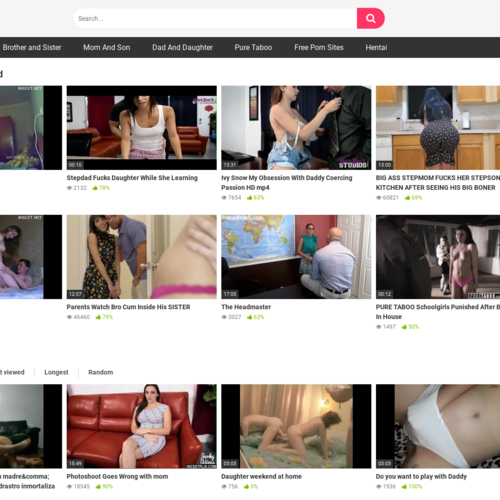 Incesto69
Incesto 69 is rather very simple looking. The black background is giving off that secretive vibe that I personally don't like since it kind of takes the vibes down a notch. The overall look is one of a Wordpress site, which I'm certain that Incesto69.com is, but hey, if it works it works. The homepage is filled out with the videos of incestual daughters, mothers and fathers, oh and sons, so that's pretty much the gist of how the main page on Incesto69.com looks like. It can be better and more filled out if you ask me, since now the way it looks, it seems kind of emptyish. Oh well, you didn't come here to watch their site's design, right?
As expected, the videos were grabbed from other sources like PornHub, SisLovesMe, DadCrush and other productions that have a certified name to them. What I found interesting was that the video quality was very high. Well, high as it can go because the quality on all videos was 720p which actually looked very crispy and smooth. This is something that can tip the review in Incesto69.com's favor because when all said and done, it's about the video content and the video quality hands down and for now, Incesto69.com has their head up high and the sky is looking very blue for them. I hope things stay this way.
I saw that some of the videos had a description to them. Now, I have no idea who wrote them but let me tell you one thing. Whoever did it, did a lousy job with it, a very lousy job indeed because each sentence was 5 words long. It's like, "She is wearing panties. I like that. I came near her. I had a boner. She noticed my boner. I stare are her for about 30 seconds...one, two, three... Really? Besides that, I enjoyed reading this crappy description because it made me laugh. You have to find laughter and light in all the silly things otherwise life becomes boring, ya dig? A life message from TPD (who's thinking about becoming a life-coach). Onwards.