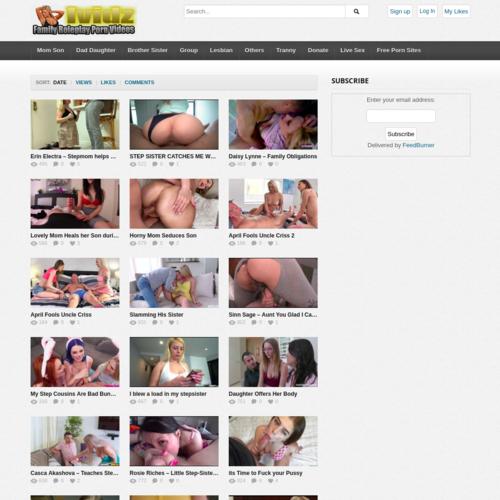 IncestVidz
I guess the first question here is, do you even like role-play incest videos or not? Because if you are not a fan of those videos, I am not really sure what the fuck you are doing here… this whole site is dedicated just to that crap, and thus you should not expect anything else. When it comes to the incest crap, I think they really hit the mark, but obviously, these are all roleplay videos.
I think that the site pretty much functions like any other free porn site out there, and there is not much I need to say about their overall presentation and that crap. I mean, I do wish that they created a site that looks a bit fucking better, but there the content they have to offer is free, so who am I to complain? Not to mention that most of you probably do not give a shit whether the site looks good or not, as long as they offer good content, right?
Sometimes it can be rather refreshing to visit a site that is just plain simple, especially for me who tends to visit tons of sites a day just to find the one that looks and works the best. Well, when it comes to their functions, they are not that bad, but that does not mean that they could not get fucking better. I have lots of ideas that could make their site bring in more people…
I am still confused as to how do these free site admins not understand that the majority of people decide whether they will stay and browse on a site based on the first impression. Of course, I am only talking about one portion of viewers, since I know that there are those who could not give a shit about the site's presentation.
Well, their homepage is filled with random videos, and you could start browsing from there. I sorted the videos by date, and while they did have a lot of new clips, the number of views/comments/likes was very underwhelming. I mean, when you see a site that has lots of great videos and not a lot of views, you immediately think that the site is not that good.