Joy Love Dolls review
back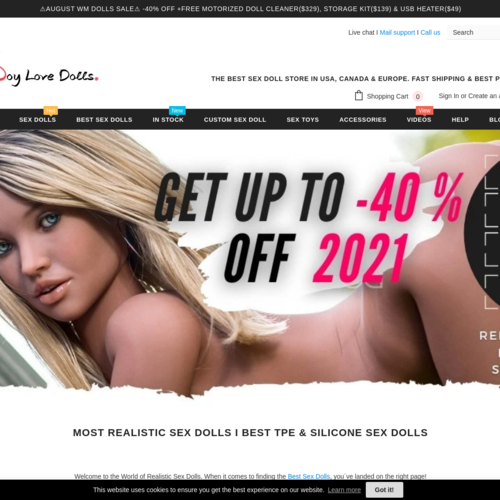 Joy Love Dolls
The world of hyper-realistic sex dolls has been expanding and evolving like crazy ever since RealDolls first hit the scene a couple of decades ago. JoyLoveDolls.com is one of the newer players in the game. Still, according to the blurb on their About Us page, they're the "Fastest Growing Realistic Sex Doll Retailer Who Has Already Gained Substantial Marketshare And Trust Among the Sex Doll Industry." They get a quarter of a million visits a month, which ain't bad for a site hawking genuine fake pussy.
I loaded up the site this morning with a hangover clouding my vision and fogging my brain, as well as an insatiable need to rub a sticky load out of my cock. I didn't even realize I was jerking off to a love doll site until I wondered why the thumbnails weren't moving when I hovered my mouse over them.
"These ain't porn video thumbnails," I realized as I continued to aggressively stroke my dick to the juicy booties and luscious titties on the page. "These are porn bitches I can fucking BUY!"
I think I was still a little buzzed. The state might have contributed to my eagerness to score one of the silicone beauties for myself, because I found myself looking around for a credit card. Then again, maybe I'm just a sucker for what looks like a bargain, and these guys are loud as fuck with their offers.