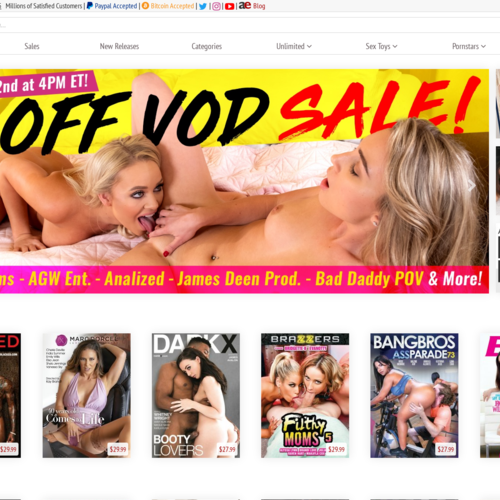 Adult Empire
Adult Video Empire has been around for a long-ass time. The domain was registered way back at the dawn of the new millennium, 2000, when everyone thought Y2K was going to make all the computers explode. That's ancient when you're talking about anything on the Internet.
I really think the key to the store's longevity is their willingness to adapt to the times. DVD and glossy porn rag sales have been dropping for years, putting websites and dank highway porn shops out of business all over the place. AdultEmpire is still going strong. What gives?
Being on the Internet gives them a leg up on the brick and mortar competition. Who wants to drive to the sketchy side of town, risking knife fights with diseased hobos just to pick up a couple anal sex movies? The only downside to AdultEmpire's location is that you can't get a toothless blowjob from a crack whore for ten bucks out back.
That still doesn't explain why they've been around so long. Most porn consumers under the age of one-hundred just don't buy movies on DVD, whether it's on the Internet or that dirty shack with the neon XXX sign.