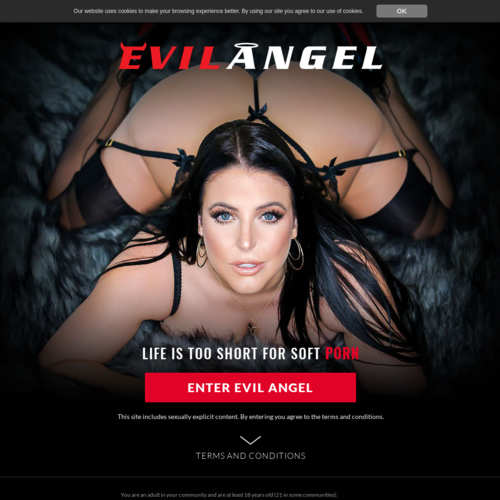 Evil Angel
Stagliano started Evil Angel in 1989 to help him sell his own films. The name, Evil Angel, apparently, was inspired by Stagliano's days as a male stripper. Of the name he says:
There was another guy in one of my shows named John. So, this MC started calling me Evil John to differentiate us. This was when I was doing Dracula and chains. At the same time, I had a girlfriend who called herself Angel when she did strip shows. She was a very nasty girl and I suggested that she call herself Evil Angel. She didn't, but I loved the name and wound up using it for my company.
Evil Angel, it turns out, is also a very appropriate name, given the 'nastiness' level of the content they went on to produce, and still produce to this day (but more on that later).
It is hard to overestimate the amount of influence that Stagliano and Evil Angel had on the porn we watch today. Stagliano is credited with conceiving the idea for POV porn in 1989. Let that sink in—that is fucking huge. Evil Angel is also often cited as the first studio to pioneer the genre of gonzo porn, which was a complete accident.
Mostly due to a lack of funds, much of Evil Angel's early work had some shaky camerawork, no connective narrative between scenes, and a raw, low-budget aesthetic. This early work, however, influenced a genre of porn that is a giant in the industry today, something filmmakers actually go out of their way to emulate.
In 1997 the US News and World Report named Evil Angel the single most profitable porn production studio. In 2007 the studio was nominated for 127 Adult Video News (AVN) awards, spread over 60 different categories (this was the fourth consecutive year the studio had received over 100 nominations, mind you).