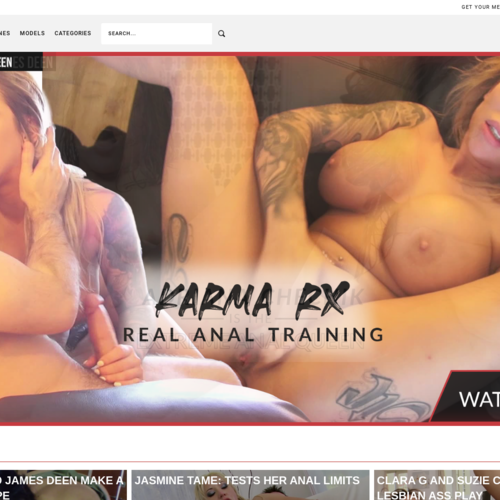 Analized
You have to pay up for this site. There's no ifs ands or buts about it. Hah, buts. But, yeah, there's no free trial or sample videos. If you click on a video, you'll get bumped over to the membership page to cough up some cash. It's not too expensive. Under 10 bucks a month if you pay for a year, but if you want a shorter membership you'll double or triple that cost. Still, it'd be cool if they included short (under 1 minute) clips from their videos so potential users could get a taste of the action without having to pay for a premium membership.
When you do pay up or sign in, you'll get taken over to the main page. It's certainly premium looking. Nice, dark black design with big ass previews running down the center of the page. A small header up top and that's it! Easy and simple. I like that shit. Though they don't keep the ads to the "deals or specials" page like other premium sites do. They have that page, of course, but you'll see more than just a few advertisements as you browse the site. I hate that. I'm paying for your fucking service. Don't go bombarding me with other sites or ads. It makes the site feel cheap and scammy.
Anyway, the videos on the front page are organized by favorites first, then below you get upcoming updates, recent updates, and most popular updates. And the previews are okay. You get a pretty big HD shot from the movie. I wish they were animated or did a slideshow, but you're stuck with plain-jane still images on this site. At least they get the descriptions and shit right though. Before you click through to the video you will get the title, pornstars in the movie, rating, date uploaded, and video length. Finally, a site that puts everything you need right there without making you go on a fucking hunt for it.