xHamster Anal review
back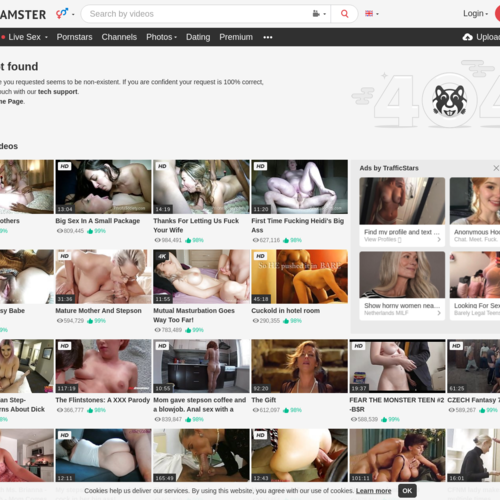 XHamster Anal
It was around the mid-to-late 80s when porn decided that one hole wasn't enough, as people all around the world were slowly starting to explore the 'backdoor' of sex amidst all the cocaine-fueled sex that defined that era – anal sex worked its way out of the shrouded veil known as taboo, and in time became one of the hottest things not just in porn but sex in general. It still remained somewhat controversial during the 90s, but by now the world has embraced the extremely tight bodily orifice that is the asshole as a normal place to stick a penis in, and if you don't think that anal has become a norm in sex and pornography, be my guest and check out any given porn website on the internet…
Not only has anal become prevalent in general sex culture within the past couple of decades, but it's also become a must when it comes to porn themes and genres. I've yet to come across a XXX website that has at the very least a semi-functioning category system without a standalone anal category. It's become such a widely-accepted thing that there's a good chance your parents have tried it before they grew into their 40s and experienced a years-long dry spill with their sex drive (and possibly their marriage). But enough about your parent's problems and how they possibly take out their frustrations out on you – you can take your frustrations out on yourself if you're a fan of anal by fapping on XHamster's anal category until you need an IV drip. Why? Well here's a few reasons…
More than Just a Content Dump of Anal Videos...
If you've jacked off to something on the internet at least once in the past five years then there's a good chance you've come across XHamster – this is undoubtedly one of the most popular XXX tubes that offers the world a limitless treasure trove of XXX content that's fit for the occasional masturbator or the serial self-destructive fapper. This site's anal category (along with every other one of its categories) contains thousands upon thousands of videos which can be organized in several different ways depending on what you're looking for. Now I know that 'anal' itself may be a pretty specific thing to look for, and once you find it you might as well have finished your quest, but it gets much deeper than that. You can organize the videos on this site's anal section by using three different filters which filter in/out the newest, best and featured anal videos.
If you're someone who masturbates a lot then you'll probably need those filters because I know your pain as well as your need, and I know exactly just how specific you might need your content to be in order for it to 'do it for you'. The great thing about this site is that it's 'best' videos in any section are deemed best via millions of voters, so one could say that they're objectively the best videos of the given category. The newest videos can also catch you by surprise, especially since there's a lot of them added on a daily basis. And the featured videos are just the ones that the site's algorithm happens to favor at that particular time – they may or may not be good, but if you blow your load every day then it couldn't hurt to try, right?