PornTrex Anal review
back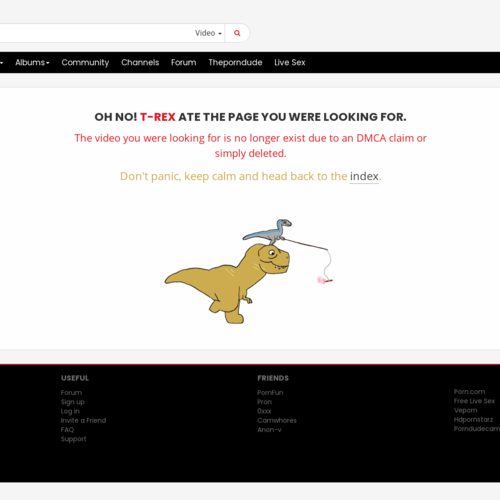 PornTrex Anal
PornTrex opts for a white background behind their standard porn-tube layout. My ad-blocker says it's already blocked a couple pieces of spam, but the overall layout looks clean as hell. Aside from the logo with a stylized letter O, all the text on the page is the same basic font. There's nothing to distract you from all the filthy, nasty butt-fucking porno.
The screen is just an endless wall of anal depravity. Well, not quite endless. There are 120 free anal movies on the front page alone. Every single one of them has been uploaded within the last 2 days. PornTrex's Anal category is basically an endless faucet of funky butt-loving.
What are you into, butt-wise? It's probably here. There's a damn good chance it's even on the front page.
The newest video is a MILF sucking on some hard, young cock before giving up her asshole to the stud. The one before that is a bondage freak show with multiple bound slaves getting hot wax poured on their skin and dicks shoved in their asses. Busty cougars get anal on the floor and wet-ass teens take it on a couch.
That's just the tip of the iceberg. You can also find fingering, fisting, and toys. There's lesbian anal and butthole-themed orgies. Fans of kinky bondage and fetish porn will have plenty to beat off to. You'll find both men and women being dominated and butt-fucked. I'm not talking about gay porn; all these subby men are getting pounded by bitches wearing strap-on dildos.
I tried to make my way to the last page of Anal movies to see how many there were, but you can only jump ahead by 9 pages. I have crippling RSI from the chronic and intense masturbation, so I was hurting by page 420. Then I realized I didn't have to do that, because PornTrex posts the number of videos in each category along the sidebar. They've currently got around 26k buttfucking flicks.