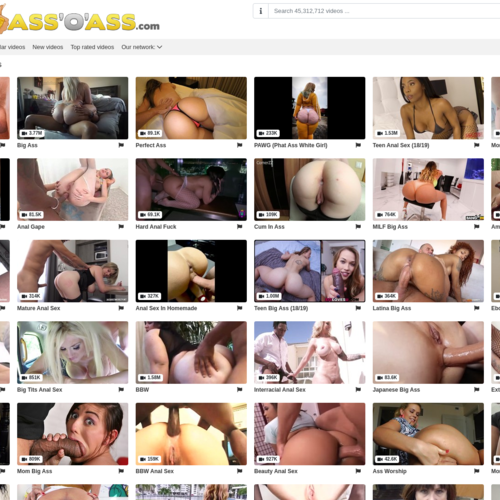 AssoAss
The first thing that I found pleasing was the fact that here, the background is black, which makes my nightly browsing routine much more fun. I hate those fucking sites where they surprise you with a light-ass background and flashy ads that literally kill the mood in an instant when you are enjoying your fap time at night.
However, one thing that I found a bit confusing is the fact that on the homepage you will not be offered to explore videos, you will have a bunch of tags suggested. For some reason, more and more sites think that this is how they should make their shit, and we all know that a site needs a couple of addicting videos put on the front page to make us want to stay and watch instead of categories.
As I explore the site a bit better, I realized why the shit is made in such a way. This place is a part of the whole porn Network, where they offer some of the juiciest yet simplest websites, but they are all made in the same fucking way. Now, as a site in whole, I need to say that they could have done much better because basically all of their sites look exactly like this one, with some small aspects of the design changed.
However, if for some reason you do not find satisfying shit here, I am pretty fucking sure that their other websites will be helpful. They have sites such as VR Porzo, GayMaleTube, ShemanTube, MatureTube and so on, which are all self-explanatory sites and I am sure you already know what the fuck they are about. If you actually do not know what you can expect to see on those sites, then you must be too fucking young to even be reading this.
At first, I was really disappointed to see that you can only list their shit by the categories, but after you choose any of the categories you will be given more browsing options. This is where I also realized that this site, together with all the other shit they have to offer, is just a host website; meaning that they ain't doing crap, they are just hosting videos from other free websites instead.
Do I even have to say why the fuck I find that quite idiotic? The only reason I sort of give them a pass in my book, is because they can help you find the perfect porn website for your taste, since today we have so many shitty and plenty of good porn sites, but it is very difficult to find them; especially, if you are browsing while in the right mood.
Now, if you have something quite specific you like to watch, you will have a hard time finding your shit here, because the filter options that are offered are fucking useless. You can list the videos by the date, duration, quality, and source, which literally does nothing for those who have a special fetish in mind. So, I suggest you stick to the categories and browse that way instead.