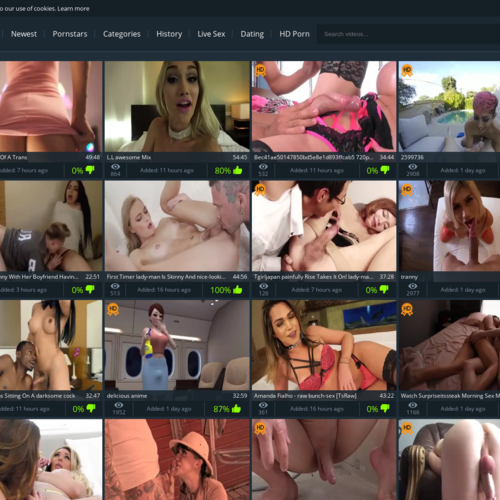 TrannyTube
Tranny has become an offensive word in a world that seems increasingly tranny-friendly. Wake up, you woke fucks. Porno was tranny-friendly long before you got into Orange Is the New Black. If the word offends you, just steer clear of the thousands of free videos at TrannyTube.tv.
TrannyTube looks a lot like every other free porn tube. Load up the main page and you get a huge wall of pornography. The site uses the endless scroll style, so instead of reaching the end of the page and clicking next, the page just grows as you scroll. Clicking a screencap brings you to a video.
Do you know what's fucking weird? If you just look at that endless scroll of porn, only about half of it is obviously shemale porn from the screengrabs. I know if I click through, those broads are gonna be packing serious schlong, but a lot of the caps look like straight porn. I see a ton of huge tits, blowjobs, and feminine faces drenched in semen.
I'm going to be honest with you. I was mildly hungover when I started reviewing TrannyTube. I forgot it was a tranny site for a second when I clicked this green-haired Asian broad at the top of the front page. Her name was Patty, and her mouth was full of cock.
TrannyTube doesn't give you a deeper preview when you hover over an image. All I knew was what I saw from the front page. I guess the ads should have tipped me off. I got a pop-under for another ladyboy site, a Meet Hot Trannies Near You banner under the vid, and a lot of dicks on the girls lining the rest of the page.
An ad on top of the video player told me "Horny shemales are looking for someone to fuck with on a regular basis. Interested?" No, I'm not, so I closed it, hoping to watch little punk rock Patty eat some penis.
Beneath the ad, the same still I saw on the main page waited for me. Patty, her lips wrapped around a dick while the blowjob recipient helps himself to a handful of titty. Right, I thought, this is what I've come for.
I got some lotion ready, hit the full-screen icon and then clicked Play. Patty appeared on screen, showing off her profile in lingerie. The bitch has got a good figure and a nice face.
Of course, there was an elephant in the room I couldn't ignore. I mean, I tried. I really didn't want to see that dick dangling between those womanly legs.