ShemaleTubeVideos review
back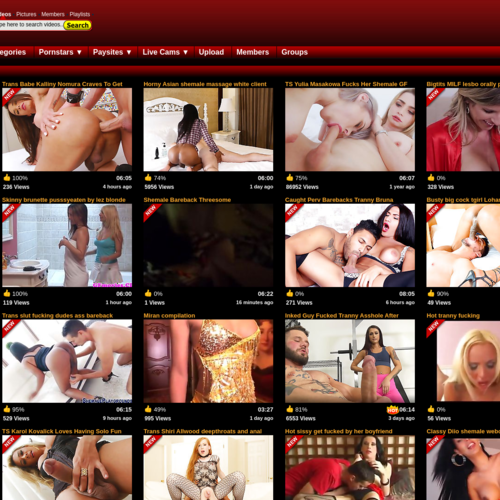 ShemaleTubeVideos
That might mean that I actually am a closeted tranny lover; oh well! That is just another genre of porn I get to enjoy, and that is why I claim that all the tgirl lovers will love what this site has to offer. Now, while most videos are going to feature tranny chicks with hard cocks, I also found a couple of videos that featured the known tranny dude called FRM Bucks; those who watch these types of videos surely know who the fuck I am talking about.
From the very first glance, you can see that shemaletubevideos.com is a very simple site, there is nothing that makes is stand out from the crowd, excluding the fact that they have so many great porn videos featuring gorgeous tranny chicks. Also, I am quite happy to see a free porn site with a good design, at least they offer a black layout, which makes our nightly fapping routine much more satisfying.
The homepage is filled with lots of random shit, and that is basically where you will find all the necessary listing options. You have the usual search options on top, as well as on the side, and the best thing about this is that everything is free. No matter what you choose to watch here, you do not have to worry about any costs or whatever the fuck.
I was also very surprised to see that shemaletubevideos.com does not really have any ads. Usually, free porn sites will have a shit ton of ads or pop-ups, but here there were none. l I mean, that is always a good thing, especially with the variety of videos they have to offer. SO you have a free place filled with loads of tranny clips and there are no distractions.
However, is their content worth the visit or not? Well, it is, believe me. I think that anyone who loves to watch transsexuals in action will love to see what kind of content shemaletubevideos.com has to offer. Their clips are pretty random, and they pretty much cover all the basic categories. From first glance, you can easily see that most of the presented videos will feature known pornstars; meaning you will not have much amateur shit.