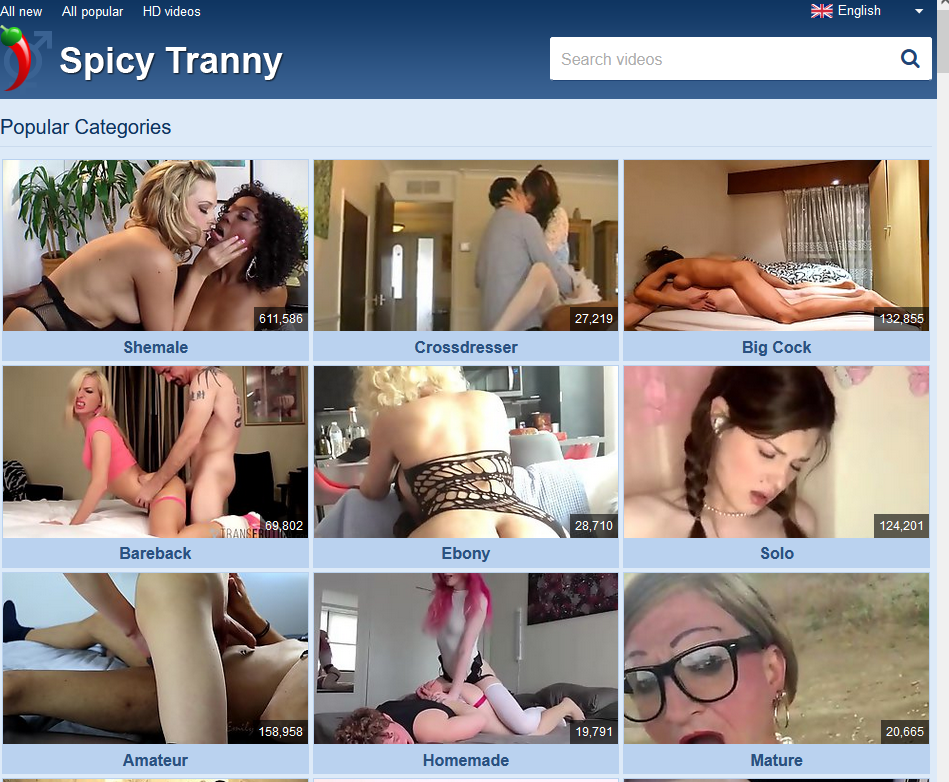 SpicyTranny
The site is in English by default, but international viewers will be happy to see the little flag icon in the upper right corner. Click that bad boy to translate the whole site into the language of your choice. Moans, squeals, and grunts will still be uttered in their native primal sexiness.
SpicyTranny's layout shares similarities with both modern porn tubes and early '90s AOL user homepages. The wall of porn thumbnails is a common sight on the web these days, but get a load of that logo. It looks like somebody slapped a couple of wingdings together in Windows Paint, typed out "Spicy Tranny", and called it a day. The logo is definitely more embarrassing than getting caught with a hooker who has a big cock.
Speaking of Big Cock, that's one of the categories you'll find listed on the front page. Most porn tubes hit you first with a selection of new videos or ones currently being watched. SpicyTranny.com opens with a list of tranny porn subgenres.
You know, I'm not much of a connoisseur of tranny porn. I'm still confused about where some of the lines are drawn between genres. I get that the Crossdresser section is going to have pre-op trannies without tits, but what's the difference between Shemale and Ladyboy? I guess The Porn Dude still has some schooling to do in the field of pornographic arts.
A full 120 categories are listed by thumbnail on the front page. Besides the Shemale, Ladyboy, and Crossdresser sections, SpicyTranny has a lot of crossover with traditional porn sites. You've got the hardcore standards like Jerking, Blonde, and Double Penetration. You can find classic scenarios filed under Cheerleader, Maid, and First Time. There's also kinky stuff like Public, Feet, and Pissing.
I have this game I play sometimes when I see a tranny site. Take a look at the thumbnails, and see which ones look like straight porn. You might be surprised at how many there are. Black, Big Ass, Lesbian and Japanese all look like they'd lead me to pornstars with the standard sets of genitals. I'd never guess the face in the Cute screencap has a dick.
Below the category, thumbnails are the master text list of All Categories. This one falls deep down the smut rabbit hole into genres like Armpit, Groped, Japanese Mom, and Tentacle. There's no Hentai section, but you animation freaks will find what you're looking for under Anime.
In the top left corner of the screen, above that terrible logo, are links to the All-New and All Popular sections of SpicyTranny. It looks like hundreds of videos were uploaded just yesterday, so it's safe to say the site is growing at a pretty rapid rate.
Unfortunately, there's no way to see exactly how big their full collection is. I couldn't find a number anywhere, and both the Latest and Popular sections only go back ten pages each. SpicyTranny's collection does seem huge. It's in the thousands, but whether that's tens of thousands or hundreds of thousands, I couldn't tell you.