PornHub Shemale review
back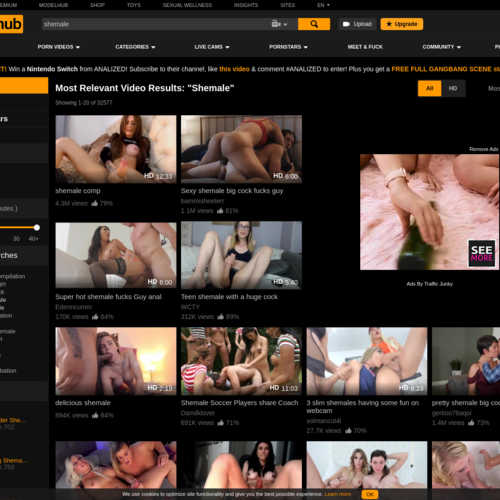 PornHub Shemale
I find it hard to resist a session of shemale seduction, and transexual porn is the climax of fetish fun for me. I know the idea of sharing a bed with another stiff pole or even sharing some intimate time with another hottie with a bigger cock than your boyfriend might sound crazy to some of you. But fuck your reservations! I don't give a shit about busting a nut into a hot chick with a bigger dick than mine, and this is what really gets my dick throb with steaming sensations.
But where can we find this exotic serving of porn? Most of the mainstream porn sites don't have much shemale porn. It seems that some of our conservative attitudes about gender are hurting the supply of real amateur and professional shemale porn a bit. Now there's a valid reason to call for a revolution in the porn industry: fuck those conservative cultural beliefs and fuck religion, I say we need to be more open to other sexual exploits besides ordinary heterosexual porn so that these ladyboys can feel free to upload their sexual adventures online in huge numbers.
In the meantime, sites like Pornhub have been making significant steps to fill the gap. The site has a section that is specifically dedicated to this unique niche – amateur and pro-tranny porn. The Pornhub.com has been serving a fuck-ton of shemale porn videos for several years now, earning a goddamn shit load of praise along the way. Users can also enjoy a variety of other features like sharing videos on social media and liking or disliking them. You can optionally register for a free account, which allows you to download and upload videos, or post your fucking boring comments.
I must mention that the action here is pretty awesome too. You have your Solo Shemales who stroke their giant dicks until they get a sticky cumshot. Then you have your hardcore shemales that use their big "shecocks" to fuck some lucky dude or chick. In either case, the action is pretty sweet and you will certainly enjoy what these girls have to offer.