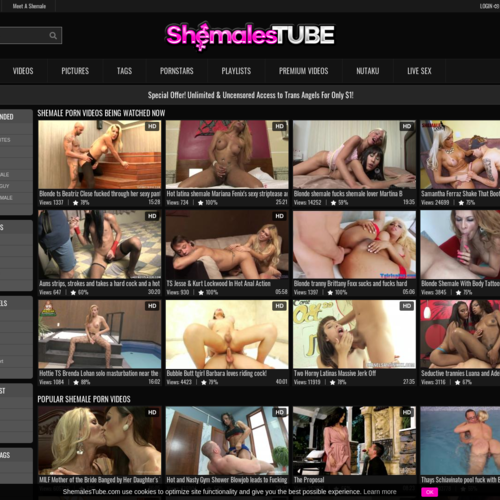 ShemalesTube
The first time I opened this site I thought that I zoomed in a bit too much, but as it turns out their site just looks that wrong… I am not sure how one does that, but apparently, it is possible. Oh well, at least their content is hella hot, and that is what matters the most, right?
At least their overall design is very simple, which makes browsing much easier, and it is black. Again, that makes browsing very easy on the eyes, since I know all you perverts prefer to browse for naughty shit at night. There are some options on top of the site, but those look like they were accidentally placed there.
I guess what I am trying to say is that there is no aesthetical structure here, and that bothers me a bit. I expected a lot more from this site, but apparently, this is the best they could have done. I am not speaking about their content at all, I hope you understand that I am talking about their overall options and all that bullshit most of you do not give a shit about.
You will be given a lot more options if you click on the three lines in the left corner of the screen. There you will see that this site actually has some good search options and a lot of other crap to offer, but I just do not understand why they could not have made a normal fucking site and offer everything in a different way, because this just seems messy.