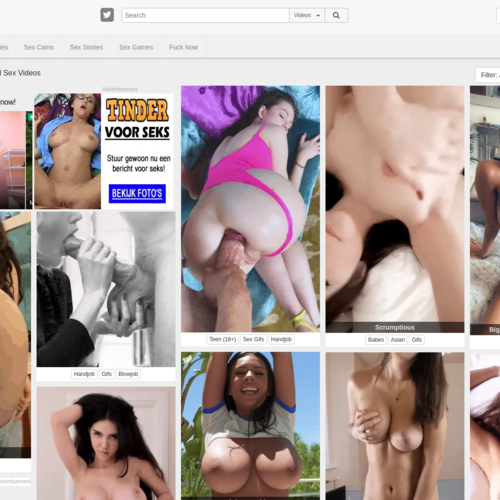 Sex.com Gifs
Sex.com/gifs/ is a massive hub of porn gifs. Yeah, sex.com. What a great domain name. It sounds like something I would have googled as a horny teenager who didn't know anything about the internet. I wonder how much of their traffic comes from people like that. It should be no surprise that this site has been around since 1995. But holy shit that's a long time. Longer than some of you have been alive I bet. And their legacy is still going strong with over 40 million site visits every month. And sex.com/gifs/ has certainly earned their place as one of the most popular porn sites out there with all the content they have here.
Fuck, this page is overwhelming in the best of ways when you first go to it. You are bombarded with a full page of incredibly sexy gifs that all start playing at once. It's nearly impossible to look away. It makes you feel like that dude at the end Clockwork Orange, but with porn. There's just so much going on here that it takes a minute to figure out where to go. But damn is it nice that all of the gifs will just autoplay if you want. You don't have to click through to watch them or anything. You get the full show just by scrolling through.
If you can't handle all of the gifs playing at once, there's a helpful button up in the top right that lets you turn the gifs off while you scroll. If you click that it'll turn them off and make them still images that you have to click through to view. You still get the same info in the previews regardless if the gifs are on or off, which is handy. You can see the tags for each gif, the title, how many comments it has, and how many people have pinned or favorited it.
When you do click through to a gif you get the options I mentioned above, plus you can report shady looking content. When you scroll down past the gif you can check out a mini selection of hot sluts that share the same gif tags. So, you can browse through similar content that way.