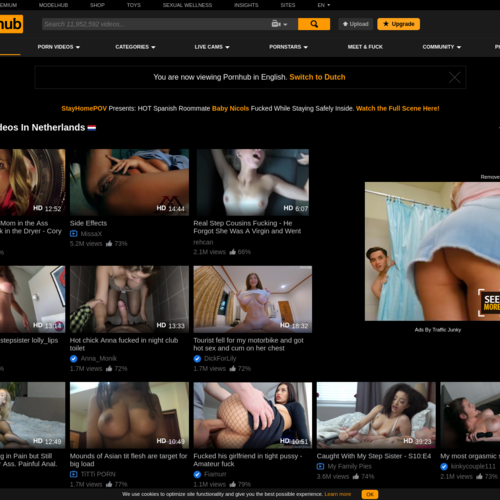 PornHub Gifs
Anyone who watches porn has come across one of the biggest porn sites; Pornhub.com. But did you also know that they have a Gif section that covers all your favorite kinks and fetishes? Whether you get off solo masturbation, hardcore and softcore content, BDSM, squirts, big tits, or whatever, the amount of porn gifs in this smut behemoth is simply overwhelming. If you are the busy motherfucker that has no time to watch full scenes or just loathe the awful acting and rushed foreplay in many of the porn videos, the Gifs on Pornhub should help you focus on just a few seconds of animated XXX action and bust a large fucking nut in a few seconds. Let's dive right in then.
You mean besides helping you have a quick fap? They can be made from practically any adult movie meaning you have a fuck ton of niches to pick from. You will see amateurs and professional fuckers getting nasty in these 'flipbook' pictures that are guaranteed to leave you with a hard dick or wet pussy. These movie pics are certainly not a new way of enjoying porn, but it is still a hot idea worth trying.
Do people really get off Gifs? Of course they do, fucking toad. Actually, I can agree that a super-cut from a porn vid is actually a great way of getting your jerk quickly over and done with. I'm thinking you've had that experience where you are there watching a porn video but keep looking over and over for the perfect moment to bust a nut.
Needless to say, that can be a frustrating process. With Gifs, you don't have that 'luxury,' and you have to jerk off to what is there. If you are the modern dude on the move and don't wanna waste your whole damn life beating meat, I suggest you use Pornhub Gifs to your advantage.