InstantFap Gifs review
back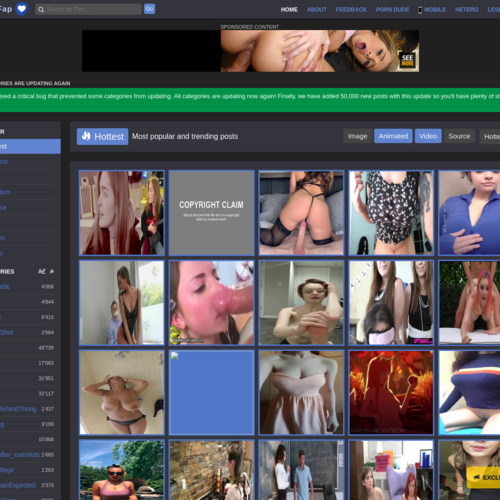 InstantFap Gifs
They include a second sorting option for their gif page that lets you only show gifs that have sources included. That's right. Gone are the days of everyone commenting "sauce pls, source, or some other annoying iteration of the phrase." Just click on the gif and you'll see the source up top. Easy. Done. What a great fucking feature, but we aren't even at the surface of all the cool features this site has. Oh, and if you want to sort by sexual preference you can do that at the very top of the site and sort every bit of content by hetero, lesbian, or gay.
Say you're not happy with any of the popular shit on the front page for some reason, you can use the sidebar on the left to sort by category. There are a fuck ton of them and you can organize them by popularity or simply sort alphabetically. You have awesome categories like "pronebone, LipsThatGrip, Kneehighsocks, and just about a hundred more."
And each category has a number next to it to show how many images and gifs that section has. "Ass" alone has over 23 thousand. God damn, that's a lot of booty. But you're here for gifs, right? Fuck all those images. No problem. You can toggle in the top right to show only animated clips and videos if you don't want any of the other shit. Plus, once you click a category you can use the sort options I mentioned earlier like "popular" to see only the most popular gifs from just the category that you're in. I wish all porn sites were as usable as this one.