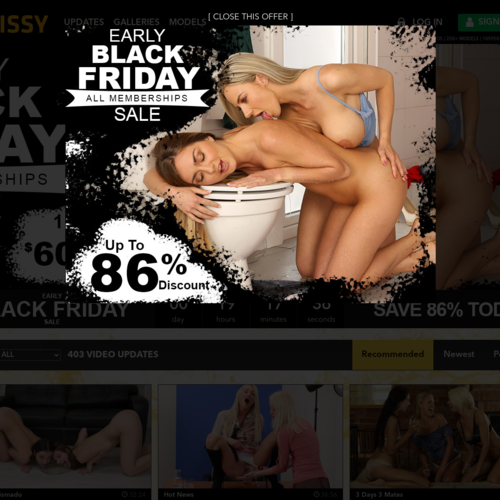 ViPissy
Vipissy.com. This name does a lot of legwork for the site already. You know it's premium by the sneaky VIP in there, and you know it's all about piss. And this site actually is all piss and pee. If you're looking for some of the good brown stuff, then you'll have to search elsewhere. But they do piss, and they do it well. Somehow, they are criminally under watched. I get it. Piss is more of an extreme niche, but, still, around 50k views every month is still low for a site like this. And they've been around since 2012, so being new doesn't quite explain it. On the surface, this site looks great, but let's see if we can explain these numbers.
Well, the color scheme isn't doing them any favors. We get it. It's about piss, but did you really need to make everything a bright white and yellow design? At least go black background or something to make the yellow less nauseating. Even if you love piss this is a bit much. But, aside from colors, the site layout is sleek and looks well put together so far.
There's a header up top for "Models, Updates, Galleries, Support, Deals, Forum, Cams, and VR Pissing." Pretty solid selection of options that I'll explore here shortly. You also get a nice welcome message saying that they promise to read and respond to any and all suggestions, questions, or concerns via their support page. That's cool. I don't see audience engagement like that often.
The rest of the main pages is mostly dedicated to video thumbnails. They run the length of the page down the center and can be organized by recent updates, featured, or most viewed. While we're at the previews, let's talk about how great they are… in some ways.