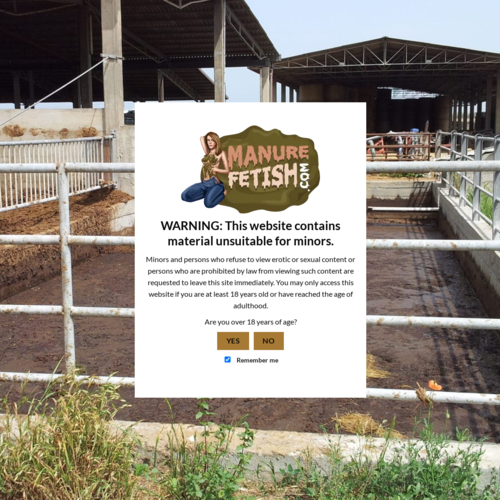 ManureFetish
ManureFetish.com is a pretty goddamn new website, and honestly? I've never seen anything like this. I pride myself at being first in line when a new, freaky, kinky-ass fetish appears, but this is the first time I've heard about people getting off to cow shit. They obviously ain't the most popular porn site on the planet, but they're getting like 200 visitors a day. That's a lot more than I expected.
Load up ManureFetish and you're immediately greeted with a drawing of a pretty farm girl with her overalls pulled down and greenish cow shit smeared all over her titties and belly. It's a comically gross image, making me laugh like a fucking retard and retching in my mouth just a little bit. Scroll down the page and you'll see some even worse shit. I mean "shit" in both a literal and figurative sense here.
The first real image you'll see is a photo of a redhaired babe with no clothes on. It's actually a bit hard to tell she's naked, because she's waist-deep in a pit of cow feces. It's thick like mud, and she's got it smeared all over her body up to her neck. It's a damn shame, because it looks like she's got a tight little figure under there.
Of course, you probably won't think it's a shame. I'm guessing if you're even reading this, the smell of farts give you a raging hard boner. I can almost smell that fecal stink just looking at this photograph.
I keep wondering, though: is this scat, or is it something else? I have to wonder if using animal shit makes it beastiality or some other fetish entirely.