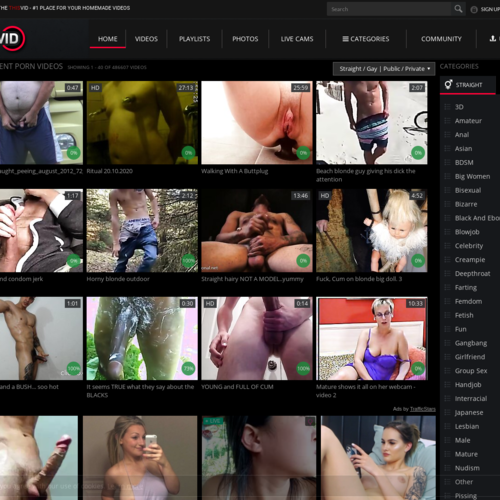 ThisVid Scat
You should know that ThisVid.com has loads of porn covering other niches that you should check if the thought of seeing grownups with faces smeared with shit makes you want to throw up. But if you are down for watching crazy ass people engage in not so pleasant shit-filled activities, then continue reading for a full review.
You expected the entire layout to look like a bunch of poop smeared across the whole screen, didn't you? For a site that's literally about feces and girls, it features a surprisingly neat and dirty outlook. ThisVid is one of the rare websites with a massive collection of upload scat content but still puts in the effort to neatly organize it all. The design is quite aesthetic, but the designers clearly put in the works, and you will be able to find your favorite filthy flicks with ease. The black background is also perfect for hiding your perverted tastes from your hawk-eyed mother.
The site has the usual menu that should help you find all the good stuff (by which I mean poop videos). Right below the page is a browsing menu that shows there are 4267 pages to browse, all stacking over 153,612 pretty filthy videos. You will see some interesting and other disturbing stuff, but that is clearly what you expected so, no surprises there.
Think of Jap poop, horrible diarrhea videos, Chinese face sitting, dirty anal cam girls shitting on their hands and smearing their bodies with that shit and more. The site starts by presenting you the most recent videos with the number of views, rating, time of upload, length, and quality (some flicks have an HD icon) all visible.
There is a search feature at the top-right if you have a specific way you want your poop videos served. On the right is a list of categories you can focus on the fetishes that are particularly appealing to you. They include blowjobs, creampies through to interracial and mature scat play, and the variety of content is sure to please all of you knobs.