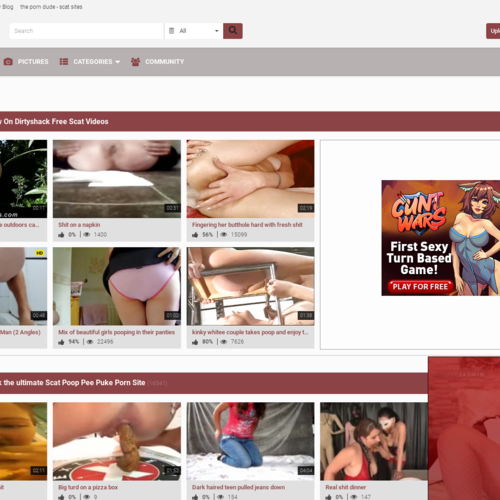 DirtyShack
Starting off with the shit tabs. There are a few header tabs that are worth mentioning, so, if you are a scat lover, pay attention. If you don't want to see nasty things like these, well then you might as well leave now. Check the views on these videos. Go on, I'll wait. There are so many people watching these, it's scary, honestly. There's a video of a male slave being forced to eat poo, it lasts a minute, and it's pretty god damn gross. The views? Oh, about 26 thousand people have seen this video, and 71% of the people who have seen it gave it a thumbs up. Who am I to judge them right? The video right next to it has a 100% rating and around 10 thousand views. Shoot me, I don't want to live in this world!
Pooping isn't the only thing these people do. No sir. They also pee all over the god damn place, but they will also vomit. I hope this makes you horny. Until now we've only been talking about the home page, but more horrors await on the "videos" tab, and this is where you can really geek out on your preferences of videos of people taking dumps on other people. Sounds fun, right? First off, you can choose the duration of your videos, they can be anywhere between a minute and 45 minutes. However, if you have a video of someone pooping that lasts more than 45 minutes, all kinds of questions start to pop up in your head. I mean, I've taken such dumps in the past, especially before going to work, however, I don't think anyone recorded me.
If you ever get bored of looking at these videos, then you should definitively check out the pictures gallery. First off, you might expect static pictures here, but that's not what you'll find on DirtyShack.com. Rather, you will mostly find gifs. These do the job for most people, I guess. Most of the gifs posted here are of a fat dude with a huge nutsack taking dumps over and over again, infinity and beyond. So yeah, heads up.