Motherless Scat review
back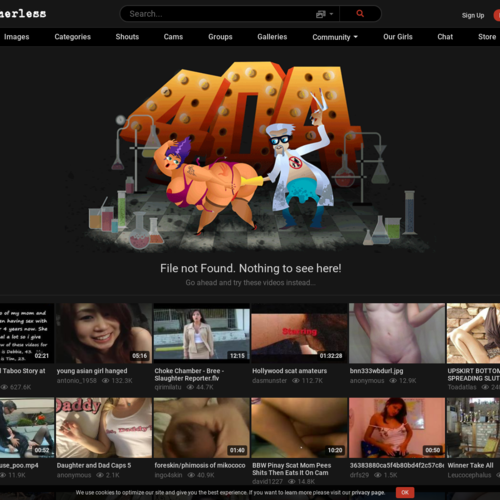 Motherless Scat
You all know motherless.com. It's one of the best and biggest porn sites for amateur porn in the world. It brings in over 1.5 million unique visitors every day. Those statistics are fucking insane. Do you know how many people 1.5 million is? That's almost double the entire population of South Dakota. And Motherless.com shows no signs of slowing down either with a steady climb in users, content, and views every month. With content mainly driven by amateur user uploads, there's an almost infinite potential to keep going.
But you're not just here for the big picture. You want all the nasty, gritty details about their scat page. Well, let me tell you, Motherless does not disappoint. Do you want scat? You've got it with nearly 12,000 videos and more being uploaded every single day. I doubt you could even take 12,000 shits in your whole goddam lifetime. And this is the good shit, too. Fresh, new, amateur chicks pissing, shitting, and cuming to their hearts content. And Motherless brings its own unique style to the porn scene with all of their videos being shot and produced by amateur people and studios. This isn't your usual fake, high budget porn. This is real, and this is really dirty
And you know what? You don't have to experience it alone. There are chat boards, classifieds, and meetups you can take part in all on the Motherless site. No more dangerous Craigslist hookups or awkward Tinder fucks. You can find people with the same twisted minds as you with just a few clicks. It's time to make those hot, sticky brown fantasies come to life.
These boards are far from inactive. There are over 600 pages of posts for scat alone! Over 2000 if you lessen your search to "piss." That's a lot of freaky people to share your experiences with. You can even upload pics of yourself getting dirty for other people to comment on. I'm sure you attention whores, and regular whores, out there will have fun with that. If you don't want to share pictures, then you can just post text stories for others to reply to and read. It's actually a really well put together message board and community forum.
These videos are straight to the point. There's no fucking around with videos the length of a feature film here with dolled up titles. You've got gems like "delicious shit smearing," "triple anal fist," and "dirty, dirty, dirty." You know what you're getting into because each video has an animated thumbnail, so you can see, or never unsee, just how nasty things are going to get. Under the thumbnail, there are video details you that help you find the perfect one. It lists the video length, date uploaded, the user who uploaded, and the number of views. And if you're feeling particularly daring, you can hit the random image/video button and see where fate takes you.