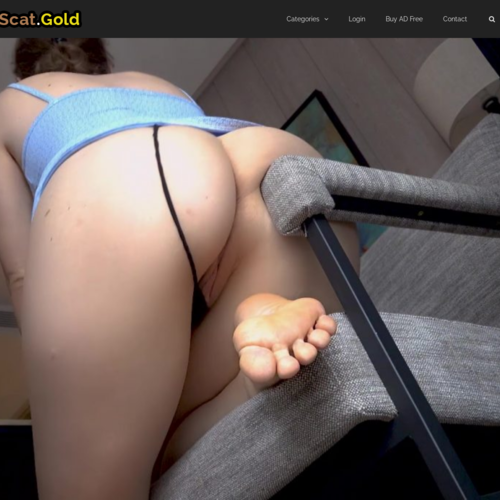 Scat Gold
Once you visit ScatGold you will immediately be introduced to loads of gorgeous chicks who love to smear shit all over themselves. If you scroll down, there will be a bunch of clips presented, and you can watch any of them for free. There were quite a bunch of different scenarios when I first visited, so if you are into scat porn, I am pretty sure you will love the shit presented here.
One thing that you will surely appreciate is that the site currently has over 2640 videos, and they are still updating! This just means that you will never run out of new content to watch, since I am pretty sure that while some of you lads might be crazy and watch loads of porn a day, 2640 is still a high fucking number.
The design of Scat Gold is quite simple since for a fetish like this there is no need to do anything special I guess. I mean, they could have made the design a bit darker, since browsing for such naughty content at night is probably what we all do... then again there are some weirdoes out there who prefer to browse such dirty fetish clips during the day, in which case, the design will not bother you.
Now, as for the type of clips you can watch here, as I already mentioned there is quite a variety but they are all connected to scat. Some of the first clips I've seen where quite simple, where two chicks share the love of shit by putting it in each other's mouth, but lesbian scat porn is not the only shit here. You have plenty of men who love to eat it fresh as they make their women sit on their faces and so on.
Basically, what I am trying to say is that you have plenty of different types of clips because let's be honest, you can get quite creative with scat porn. There are plenty of solo chicks who prefer to shit in their pants and smear it all over their body, and even the older MILFs who will use a big toy to spread their ass and make the poop come out clean.
One of the best features on this site is the fact that all of this can be watched for free, and most of the clips were available in 720p, which is not something you can get often, especially on a free porn website. However, there are some annoying fucking aspects as well, such as the ads.