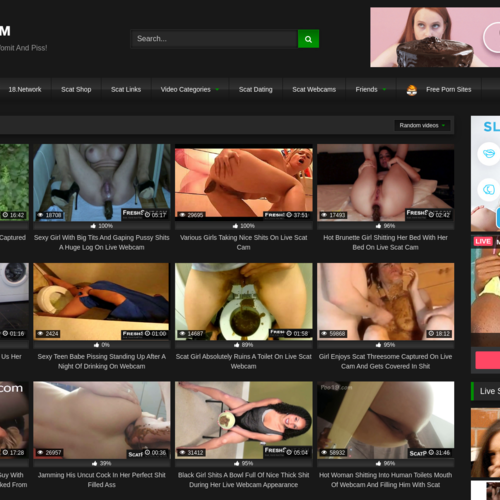 FreshScat
There is really no in-between when talking about shit, you are either into poop or not, there is no 'maybe'. If you are in the 'maybe' section and you are considering, then my friend, you are probably into scat porn. Obviously, there are different presentations of this fetish, and I am here to introduce a site called Fresh Scat, where you have plenty of such disguising videos, which is literally how they introduce themselves, with the use of 'disguising'…
From the very beginning, you will be able to see loads of different videos and their thumbnails as well as titles are enough to explain just what the hell you can expect to watch. Their design is slick, black and just the way I like it; they make the nightly browsing much easier, however, I am not really into this shit, literally. Do not get me wrong, I love almost all kinds of pornography and I can review anything, so I am not here to judge, I am just here to state the facts about this site overall.
I think that they also offer a user-friendly interface, since I did not have any issues when trying to navigate through their website, and I am sure you will find your way around as well. As for the videos, I've seen a lot of random crap, from the shitting clips to puke, and menstruation, their description did not lie. They really do offer some rather 'ugh' content, but I guess if you are into this, that is exactly what you wanted to hear.
Of course, I browsed the videos they had to offer, since how else could I tell you what they have to offer? First of all, their clips are quite random, from the content to the length and everything in between. I found clips that are only 2 minutes long, while there were videos of about an hour long, and they were completely different obviously.
For some reason, there were plenty of webcam videos when I visited the site since the first content I checked out was the 'latest videos' since that was the first shit that was presented. You will have some other ways of listing their clips, and for that, you can check out the categories page, which can be seen on top. However, I was disappointed to see just how little tags they have to offer… I mean, they could have fucking made actual categories…