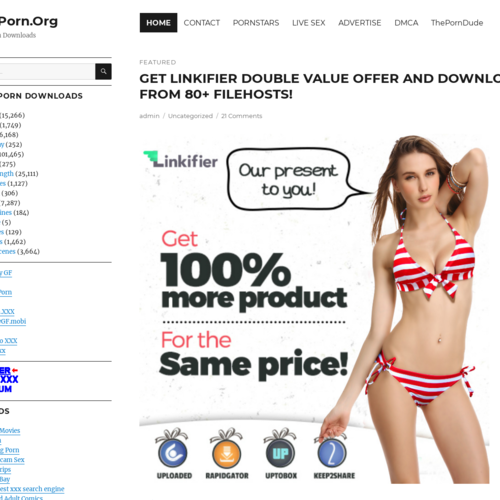 SeaPorn
Somebody sent me the link for SeaPorn.org this morning, and my first thought was that it was some kind of Scientology thing. Their floating fortresses and billion-year contracts might make for a porn empire to rival their business cult, but nah, SeaPorn is actually a free porn download site. Now I understand why they're getting 15,000 visitors a day.
I assumed for a moment SeaPorn was a brand new site, but not because it's got a flashy layout. In fact, it's got just the opposite. This is a pretty generic-looking blog format. There's no logo, just a site name in plain black text, exactly like the rest of the site. The only imagery is the explicit thumbnails from all the porno you can download here, which is just fine with me.
The reason I thought it was newer was because I've seen other sites like this. They usually pop up on the net and make a few bucks in spam money before disappearing into the ether. SeaPorn ain't one of those, though. For one thing, nothing has slipped by my spam blocker yet. For another, these fuckers have been around a long time.
I scrolled down the front page, admiring the office ladies getting their twats buzzed in Japanese Adult Video (JAV) and lipstick lesbians tonguing each other's titties. I saw famous pornstars like Alina Lopez, Kiara Cole, and Karla Kush. There were MILFs and teens, White girls, Asians, and Latinas.