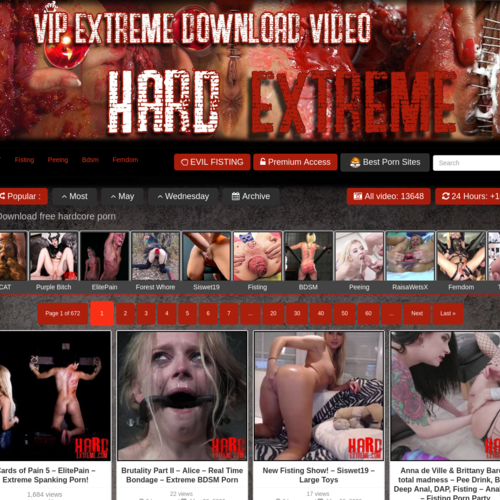 Hard-Extreme
I do wish they gave some warning beforehand because as soon as you visit, you will be able to see everything; from the horrors of scat porn to some moderate hardcore crap, like BDSM. In addition, you have different levels of each fetish, so while some videos might include just a solo act of a certain weird crap, others include groups and end in blood.
We all choose what we want to masturbate to, but sometimes I have to wonder what kind of people like to masturbate to such extreme shit. Do not worry, I am not here to judge, but I will be telling you everything hard-extreme.com has to offer… that is why I am here. The overall design is very simple, there is not much that will make it stand out from the crowd.
That is not really a bad thing, but seeing as this site is not really a free one, I expected a lot more. It will be quite obvious that what they have to offer is not free because you will have a button to join the site basically everywhere. You will also have a link to my amazing site, where you can check out some other reviews I have did if hard-extreme.com does not suit your taste.
While they could have made the overall design better, I still liked the layout, because it was dark, and the site sort of screamed "fucked up", which is exactly what kind of content it has to offer. On top, you will be able to see some of the major video categories they have, and from that, you should know whether they offer something that will make your dick hard or not.