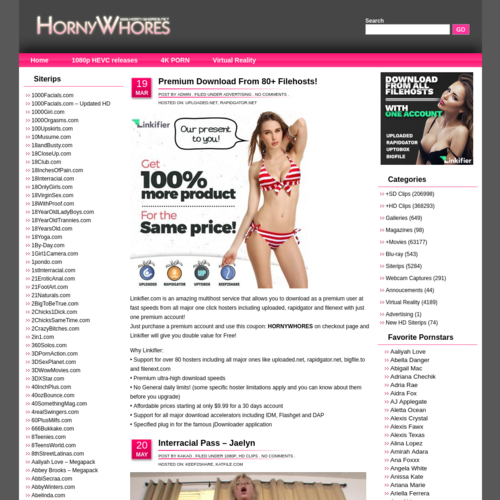 HornyWhores
Every download will have a long-ass description below, which I found useless. Isn't it better to give us some visuals, like a fucking screenshot set, instead of a story of what you can see in the video? You will have only one picture, which is the thumbnail, but nothing more than that. For you to see the screenshots, you have to open that particular post and scroll all the way down and there you will have the screenshots presented, but when you want to view them you will first get some ads.
The site overall does not have that many ads or none at all for as much as I browsed, so that did not make me mad or annoyed as much. On the right side, you will have a list of pornstars that are seen as favorites, but honestly, that list just looks like it is alphabetically written, as they mentioned a shit ton of chicks there. So, I'd say that is the actual list of chicks they have to offer and not the favorites.
Of course, if you have a special chick you find the hottest, then check that shit out, but if you have not lost your balls yet, and you prefer to search by the fucking categories, then you should know that you have that shit on the side as well. The categories are not really what one would expect them to be, as you do not have the usual porn tags.