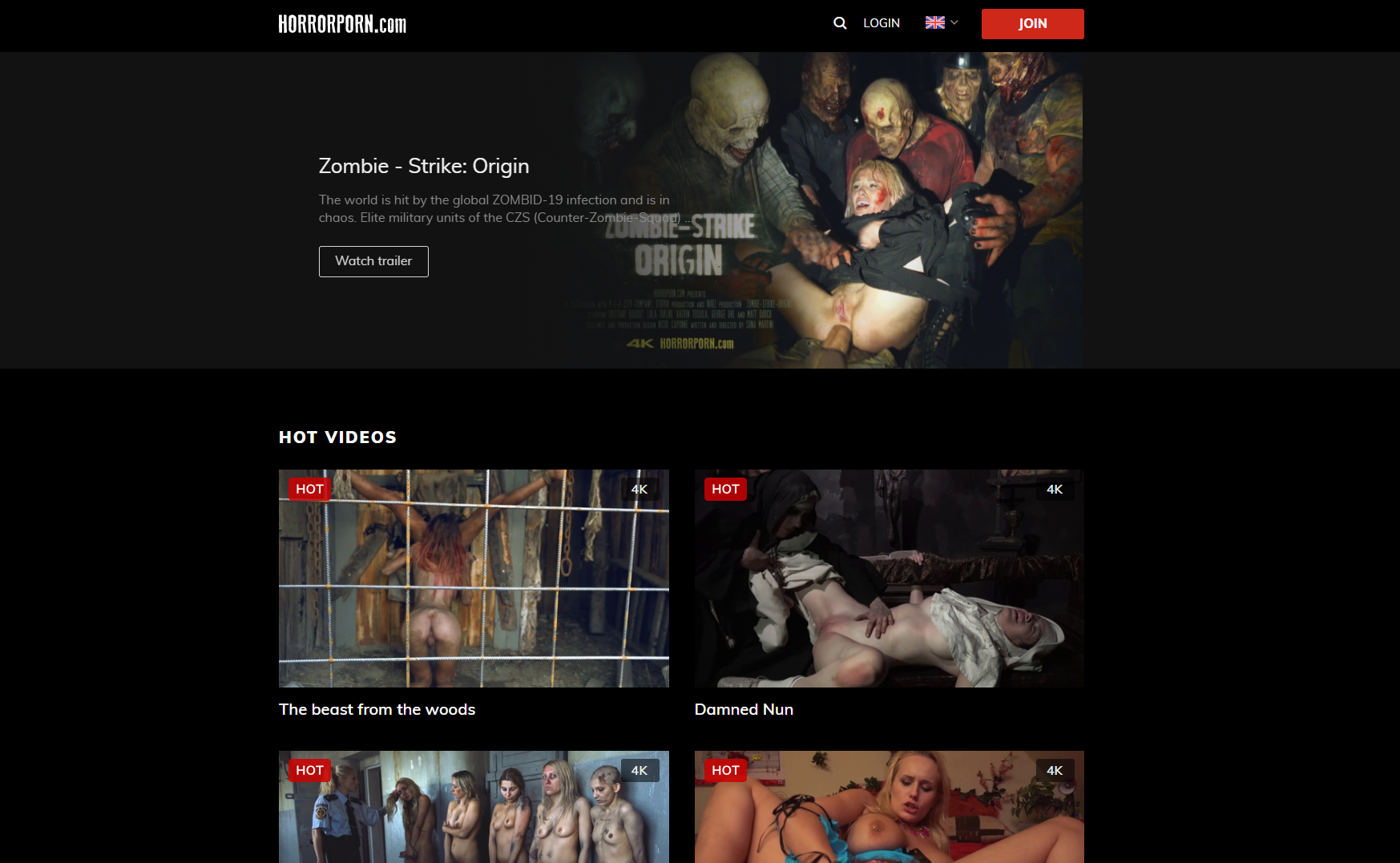 Horror Porn
Before you even get to look at HorrorPorn's landing page, a big warning covers the screen. You've got to agree you're an adult and won't get offended before you can come in. It's a standard feature of porn sites, and functions more to entice you than keep the kiddies out. Formalities, you know?
This warning screen is a little different, though. In addition to telling you they're mobile-friendly, have regular updates of exclusive content, and videos up to 4K, there's this wild blurb:
"The world is changing now, the sexual nightmare is coming. The biggest carnage you can imagine!"
Holy shit, what in the fuck am I even in for? I don't know if it's going to be rough teen fucks, werewolf blowjobs or deadly five-car pile-ups. I do know I've got to click the ENTER button to find out right away.
The previews behind the warning screen are like nothing you've ever seen before. Fans of horror movies, porno movies, and brutal sex are in for a real treat. If you've got a heart condition, go elsewhere. You might die of fright or have your erection explode in your lap.
The stills are crisp but have the intentional darkness and grittiness of your favorite horror movies. You know it's funny: some of this high-budget porno is meant to look like low-budget exploitation classics.
The newest flick puts a sex spin on The Nun. This nun sucks cock and fist-fucks assholes, which already makes it better than the shitty version I saw in the theater. There's also an evil Santa fucking women with candy canes before sticking his cock in their dirty faces, and the twins from The Shining, all grown up and doing porno-twin stuff.
If you've ever wished those old Italian jungle movies like Cannibal Holocaust could get sleazier, as I have, The Amazons looks like it could be fun. The trailer features 40 seconds of the naked natives, mostly women, ganging up to brutalize and rape the poor tourists, miles, and miles away from any help.