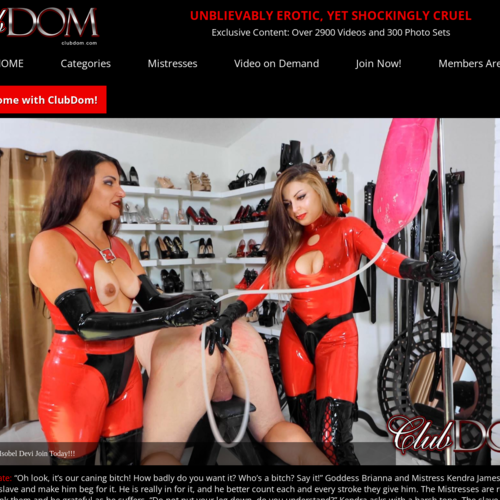 ClubDom
ClubDom.com has an archive of female domination porno that stretches back to 2001, and that longevity alone tells you a lot about the quality of the site. Their tagline is, "Unbelievably Erotic, yet Shockingly Cruel!" For nearly 2 decades, they've had a steady stream of submissive little bitch boys tuning in to see men worshiping ass, forced to dress like women, and zapped with a cattle prod as they crawl around on all fours wearing nothing but a leather gimp mask.
Holy fucking shit. What the hell have I gotten myself into? I typed the URL into the box and was greeted by a big preview from one of their newest movies, Kendra Double StrapOn Fucking. There are some big tits and plenty of flesh on display, but it doesn't look anything like the previews I normally see on adult sites.
A couple of stunning babes wearing shiny PVC outfits with high, scary-looking boots have some dudes at their mercy in a dungeon lined with all kinds of medieval torture instruments. One guy has his arms strapped to a harness hanging from the ceiling, the other is on his knees with his hands behind his back. Both gentlemen wear nothing but leather masks. One has a dildo mounted to his mouth.
I hit the Play button for a 40-second preview. It's a montage of whipping, name-calling, and Dick Face banging the little blonde chick with the fake wiener strapped over his face. I know it's a short preview, but I get the feeling she didn't get him off after she got hers.
Men being used is definitely the theme here. The other previews for new ClubDom videos show guys locked in cages, kicked in the nuts until they crumple to the ground moaning in a fetal position, and getting raped in the mouth and butthole with strap-on dildos.