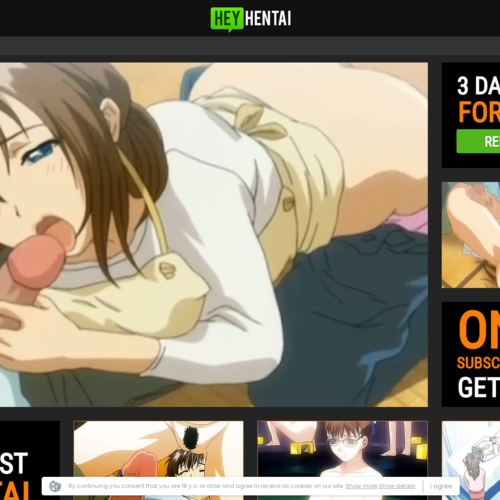 HeyHentai
HeyHentai.com is a premium hentai site. That's already got me dubious. I'm not usually one to pay for my hentai when there are so many, and I mean so fucking many, free hentai sites out there with full-length HD videos. But, hey, who knows, maybe this site is bringing some incredible quality to the table. I don't mind paying as much if the price and content is right where it needs to be.
HeyHentai isn't brand new to the game. They popped up back in 2010, or at least that's when the domain went up. From then, they've had a rocky journey. In the past year or so they've had views that have ranged anywhere from 80-300 thousand every month. Not the most consistent track record. I've known meth-addicted prostitutes that manage to keep a more stable client base than this site does, damn.
And it's your pretty standard subscription price. It'll run you anywhere from 9-30 bucks a month depending on how long you sign up for. They do have a 3 day trial for a buck, so that's not too bad. But be wary of that shit. They charge you 50 bucks a month if you don't cancel in time after that. The whole subscription page is misleading. It does shit like "only 5 memberships left" and you can't view any video previews or check out how many videos they have. I get that sites want to have some mystery to draw people in, but at least give us a small peek of that good shit.