YoungPornVideos review
back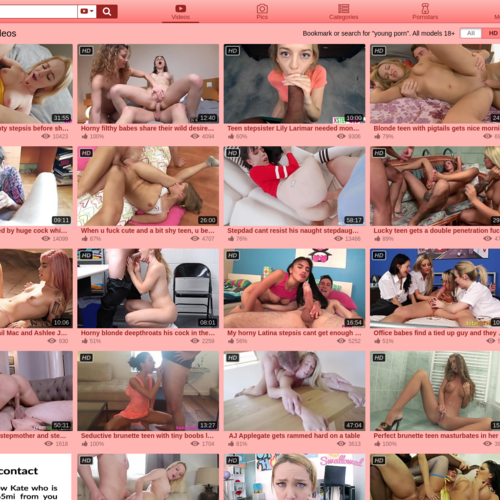 YoungPornVideos
The main focus of this site is young petite teen babes getting slammed by hard cock. You might say it's like a free content dump of nubiles. There are all kinds of young, small-framed girls on here involved in every kind of sex act, from doggy style to bukkake, and they come in a wide variety of ethnicities too. There's really no other age range of women other than 18-25 which have as many sexual hormones fluctuating in them, so if you do decide to jerk off to this site's content you'll be jerking off to the horniest age demographic on the planet, which in some way will help you with your chances of getting laid in the real world since you'll develop an affinity for younger women who are more liable to have sex with you. If that doesn't sound like one of the best mutual benefits possible when it comes to pornography and porn consumers then you're obviously not seeing your maximum potential as both a serial masturbator and a dude who can get laid.


One of the best things in life that are free are not family, friends or health – it's high definition porn videos on the internet. Think about it, how exclusive were high definition XXX videos 10 years ago? You'd almost always have to cough up money to get access to them. But now, the internet is sprawling with free HD XXX content and this website has plenty of it. It has its own video section dedicated to HD videos, so if you've ever wanted to watch videos which feature young girls getting sodomized in 720 pixels or over without having to pay a cent then look to further.


The people running this website have decided to categorize their content into 52 separate categories which cover a LOT of themes and kinks. They don't go too far with the fetishes, but they have just about everything covered. From all the sex acts & positions you can think of like blowjob, handjob and anal to visual aspects and ethnicities such as blonde, petite, 18, Indian & Asian, and even a good amount of kinks like schoolgirl, teacher, nurse, voyeur and so on. 52 categories is above average for a porn site, so this definitely means that this website has more than met the expected quota of categorization and definitely has enough variety of content to please any viewer, whether they're into surface-level stuff or something more hardcore like 'Insertion'.


A lot of XXX websites out there care mainly about their content and cramming as much as possible into their pages and completely disregard one universally-useful aspect of web engineering: usefulness and simplicity. It's easy to shove as much content as you can onto your site, but to make that content easily searchable and navigable by users is a whole different philosophy and certainly not an easy feat. Thankfully, the people who made this site aren't complete money-hungry idiots and have decided to add useful tags for every categorization. It works like this: Say you're into amateurs, and you pick the 'Amateur' category on the left-hand side of the page.