XVideos Indian review
back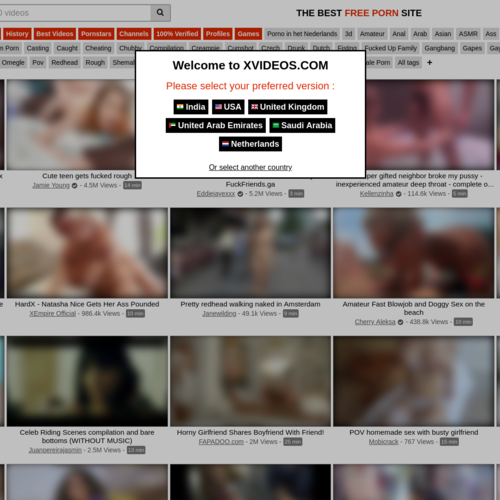 XVideos Indian
To get to the section I'm talking about just type "Desi" in the search bar up top and you'll be right there with me. The page you land on is like any other Xvideos page. They don't do anything crazy with the design. I mean, they should. I don't know how they have been around so long without implementing some sort of dark mode, but whatever.
Other than that you'll have a list of filter options up top, some relevant search tags below those, and then a bunch of previews for videos. That's it. It's simple, sweet, and right to the point. If you feel like commenting on these videos or uploading your own, then I recommend making a free account. It's easy and only takes a minute or so to get started.
The filter options are pretty extensive. You can sort by relevance, upload date, rating, length, views, video quality, straight/gay/bi, and even specify exactly how long you would like the video to be. Or you can go further and narrow it down by videos upload within the past few days, weeks, or months. Really a shit ton of options. I rarely even see this many search options on a premium site. But when you have 3 billion people coming to your site every month I guess you have some room to splurge.
For the related searches they have a bunch of good stuff like "desi forced, desi teen, aunty, and desi college." So, if regular old Indian porn doesn't do it for you, then check out some of those search options for a taste of what else they have on the site. But enough beating around the bush. It's time to dive right into that thick, sexy bush instead and tell you about the video selection.
There are over 30 thousand videos to pick from in the "Desi" category. Damn. Some sites don't even have 30 thousand videos period. Xvideos kills it here by providing a massive selection of content for what is usually a pretty niche genre of porn. I love Desi porn as much as you horny fucks out there, but even I don't expect this kind of quantity. And holy fuck is there a lot of variety here.
Just on the front page, there were some wild videos. "Desi Teen Girl Fucked Hard in Jungle," "Bengali Girl Gives Blowjob then Gets Fucked As Reward," and "Desi Aunty On Cam With Big Desi Cock" just to name a few of the good ones. And the video previews on this site are set up how all other porn sites should do it. Seriously, so many other sites get this shit wrong. It's so easy.