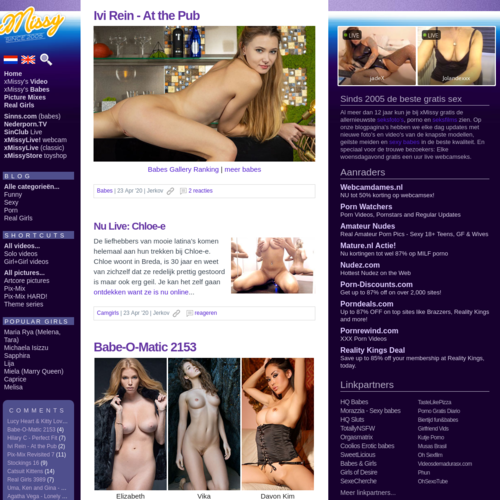 XMissy
The majority of content in here is basically just pictures and nothing else, however, this doesn't mean that videos aren't present in here. Try and find a video in the "girl on girl" section (since you are most likely to find them in here unless you go to the "Missy's video" section) and click on any movie you like. You'll notice that it will load quickly. However, the movies don't last too long, which is a shame. For the most part, they last no longer than 10 minutes, which is a disappointment, to a degree. I mean, I can't bust a nut in ten minutes, but I guess some other dudes can, so maybe it's just me. Some of the videos will end up being HD. Some will be nothing more but simple snippets, so yeah. One more thing that annoys me are the ads that pop up whenever you click on the player. I mean, I usually run into this kind of thing on other websites, but there's none of that on xMissy.nl, which is a great thing. Imagine trying to lower the volume while some girl moans loud as fuck in the background, and you aren't able to do so because 30 ads have popped up all over the screen and you can't close them all, isn't that horrible. It is, especially if you don't live alone. So, you don't have to worry about that.
A few words to finish you off
Basically, if you are a fan of naked bitches that don't move an inch, if you want them to sit still until you bust a nut, then this is the place to go. Little to no videos on xMissy.nl, but there are loads of great pictures that have been sorted into categories, and they are sure to make you cum within a few minutes, so you are surely in for a great experience at xMissy. No ads, no bullshit, just porn.