Velamma Comics review
back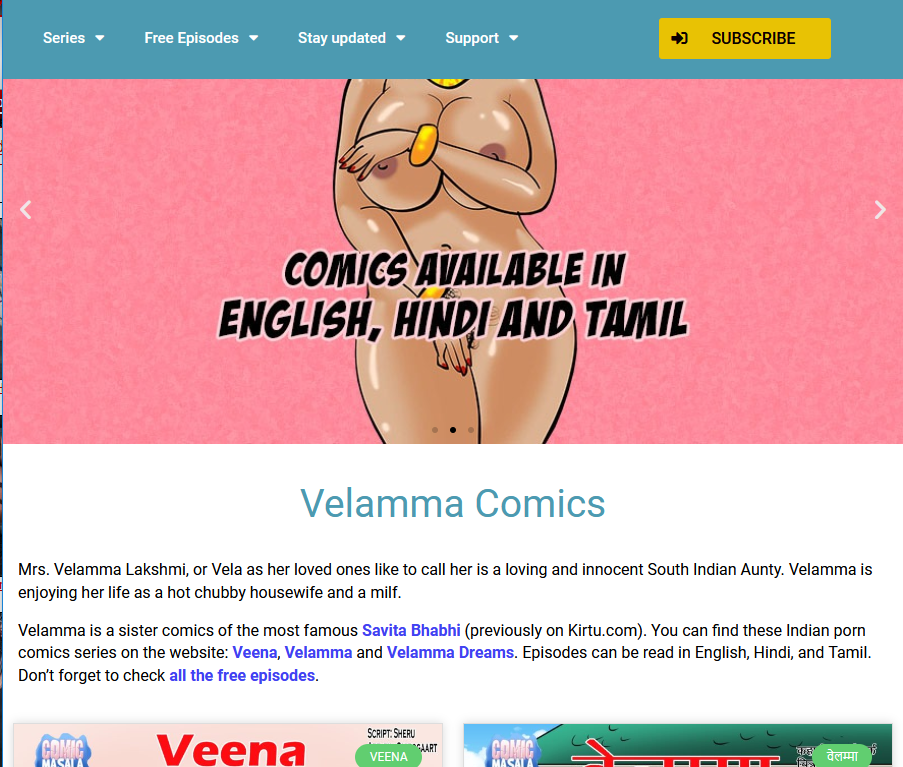 Velamma Comics
Velamma.com works a bit differently than your regular comic hub. They have a total of three series "Velamma," "Velamma Dreams," and "Veena." Velamma is the main character of the first two. She's an Indian aunty with huge tits, a nice ass, and a lot of sexual desires. In the second installation "Velamma Dreams" all of the comics are about Velamma exploring her sordid sexual fantasies in her dreams. Like blowing a doctor, having a threesome, or getting into a gangbang with a bunch of dudes off the street.
Veena is her daughter and those comics follow her kinky escapades as well. Scenes like hooking up with "bad boys" in clubs. There are a few artists that contribute to all of the comics, but the art style stays pretty consistent. So, don't expect any big changes in that regard. Same deal with the scripts. Most of them are done by the same few writers. And each episode can be read in English or Hindi, so you can enjoy them no matter where you are! Well, maybe. If you don't mind being really behind. The Hindi comics are around 20 episodes behind right now. The last actual update for the Hindi translated comics as way back in 2017. You could probably become fluent in English by the time they released a translated episode.
The homepage has a sleek black and white design. Nothing too complicated. The homepage automatically puts you on the Velamma series page where the comics run from newest to oldest. Above the previews, you get a brief introduction to the series. The header lets you flip between the three series, head to their support page, check out some of their free episodes if you can't afford the steep membership, or swap the language of the site between English and Hindi.