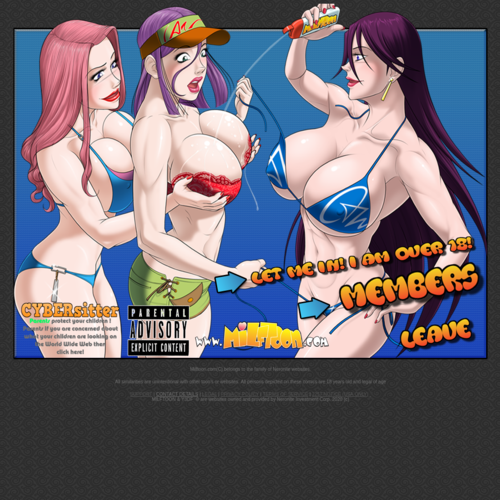 MilfToon
MILFtoon.com has been serving up sequential art of big-titted mamas and their perverted, incestuous adventures for a long fucking time. These guys have been around in some form or another for decades now, steadily building up their collection of comic-book depravity. While your own mom may be burning your X-Men collection and telling you to "move the fuck out of the basement, fatass", the hordes of slutty cougars here have completely different plans for you.
The art out on the landing page features a trio of bikini babes with bowling-ball boobs groping each other, pulling at their bikini strings, and spraying each other with a fluid labeled only "MILFtoon". Maybe it's tanning lotion because they look beach-ready, but I'm really hoping they're lubing up for some really kinky shit.
The tour out front is fairly brief, and in my opinion, doesn't quite do the site justice. Don't get me wrong—the art is stunning and the babes will get any comic fan all hard and drippy. They've got Disney's Alice in Wonderland with a thicker body and jugs hanging out of see-through negligee, and a thick-bottomed redhead with her ass up for all to see. The mom from Fairly Oddparents is drawn with a much more realistic body and a fancy-trimmed muff, and is that Jane Jetson spreading her ass cheeks?
Besides the semi-familiar sexed-up faces are plenty of original characters, MILFs you never met on the cartoon but will get to know more intimately through the site. There's a variety of art styles, but everything looks polished and professional, from the 3D CG babes to the hand-drawn, bottomless princesses.
So, what's the preview missing? It shows off the kind of erotic artwork you'll find inside MILFtoon, but doesn't really tell you anything about the scenarios you'll find inside. Everybody already knows what "MILF" stands for, but in this case, the M often stands for a very specific Mother.