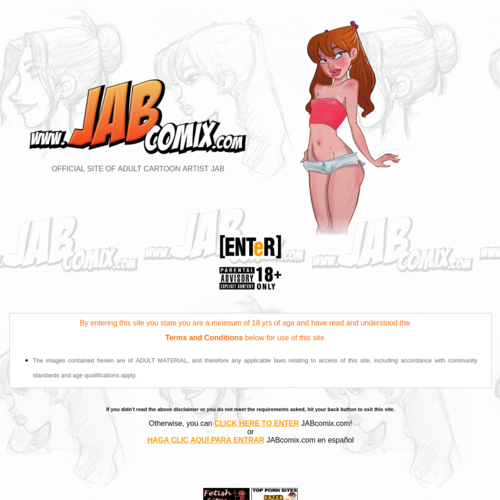 JABComix
Pretty Expensive Premium Membership Required to Browse
Speaking of cash, this site will run you a fair share of dosh. 15 bucks a month if you just want to dip your dick in before plunging balls deep. But, if you're feeling confident, you can tear the rubber off and slam that shit in at the longest membership option of 6 months for 75.95. And that's all just for the regular membership. A gold membership only has one option and that's 26 bucks a month every month. Fuck man, that's too rich for my blood.
The difference between the regular and the gold is that the regular nets you access to all the regular comics, posts, and more. Gold gets you a peek behind the scenes. Check out sketches, unreleased comics, special posts, and more. Basically, this membership is for a superfan who needs to see all the nitty-gritty details of the process. A bit much for the 10 buck upcharge and no long term discounts though if you ask me, which you are or you wouldn't fucking be here. Now, Jab didn't give me the honor of accessing all the comics, so I'll give you a rundown based on what I can see as a free user.
The main page is nice enough to look at. It's got a drawn aesthetic that fits the artwork pretty well. The backdrop has a dark painted looking deal that makes the site a little easier on the eyes, though the bright ass background for everything else kind of defeats the purpose there. No, worries, it's not like I have to stare at a screen and read text while I use the site. No, no, not at all. But that's a minor complaint in the scheme of things here. The main page is designed well and has a unique look that doesn't look cookie-cutter.