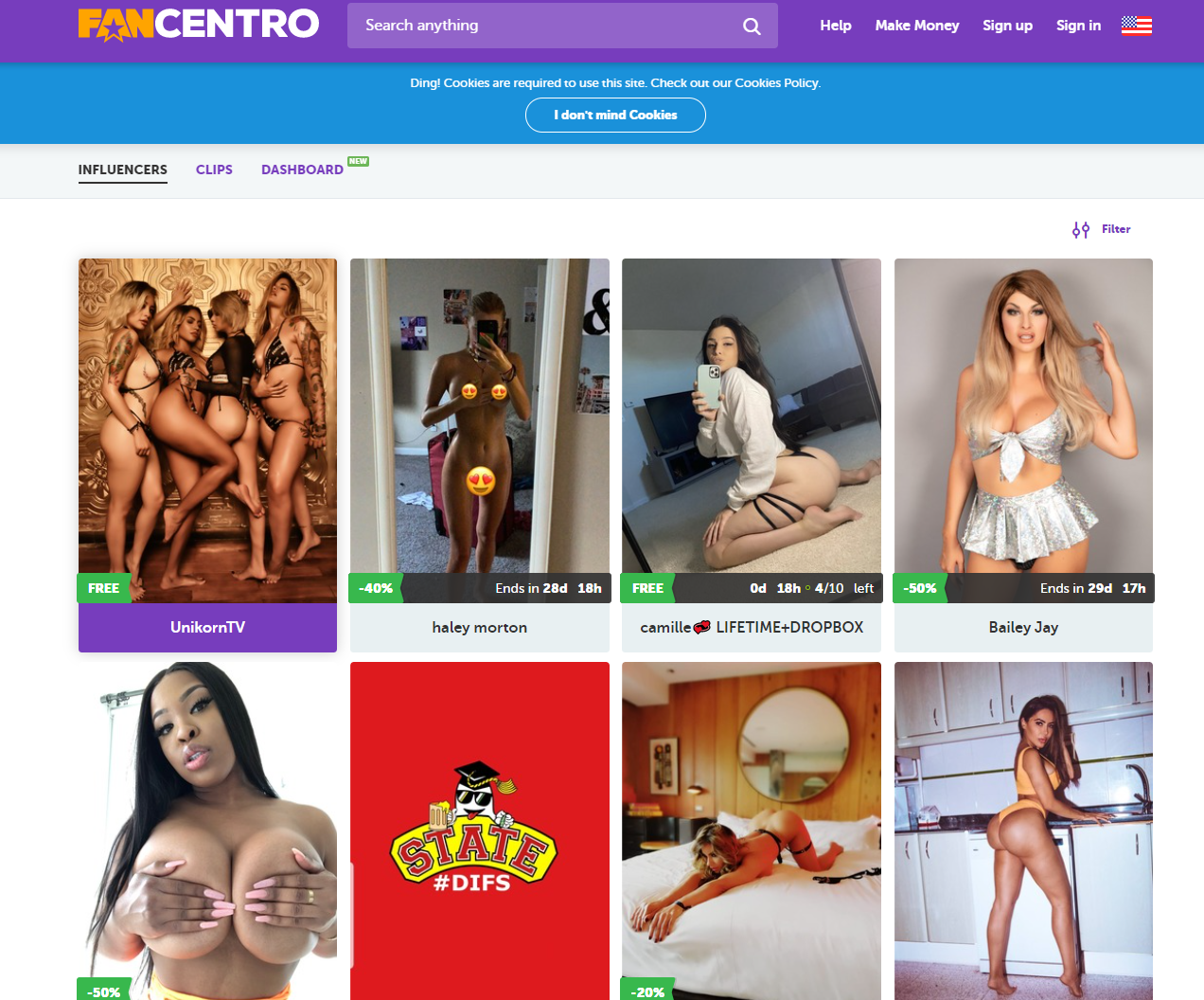 FanCentro
FanCentro.com is a website that lists all the hottest influencers, models and porn stars on various social media platforms. They don't just have links to Instagram, Snapchat, and Pornhub, but also offer exclusive access to private FanCentro feeds that feature even more perverted social media goodness. The site has been around since 2016 and has more followers than your mom. As of this writing, they're getting around 13,000 visitors every day.
When I first saw FanCentro, I wasn't sure what I was looking at. The front page is a wall of babes lined up like trading cards, only much easier to masturbate to than Pokémon or baseball players. They show you the best-selling stuff first, and that's naturally a bunch of the hottest chicks in the world, dressed in swimsuits, lingerie, or posing nude in ways that are almost SFW thanks to angles that hide nipples and obscure cooters.
I recognize a lot of these big-boobed beauties from my regular fap routine. Teanna Trump, Lana Rhoades, and Lela Star all have positions near the very top of the page. MILF Cherie DeVille is bending over with a shopping basket in her hand, and Riley Reid looks like a goddamn sex pixie in her mirror selfie.
A high level of sexiness is standard, but I see all kinds of gorgeous women here. There are blondes, brunettes, and redheads to gawk at. You can fap to White girls, Black girls, Latinas are Asians. I see skinny girls, athletic babes, and BBW hotties. Big boobs, small boobs, tattoos, piercings, whatever — it looks like just about everything is on the menu here. A lot of these chicks have BDSM or Fetish tags in the profile, so even the real degenerates have plenty to beat off to.
The meat market view is similar to the wall of thumbnails on a lot of porno sites, but the filters are definitely a little bit different. They've got one for deals, and another for tags, and the regular options for sorting like Best-Selling, Most Viewed, or Newly Added. It's the social media filters, though, that I've never seen on any free tube or premium whore haven.