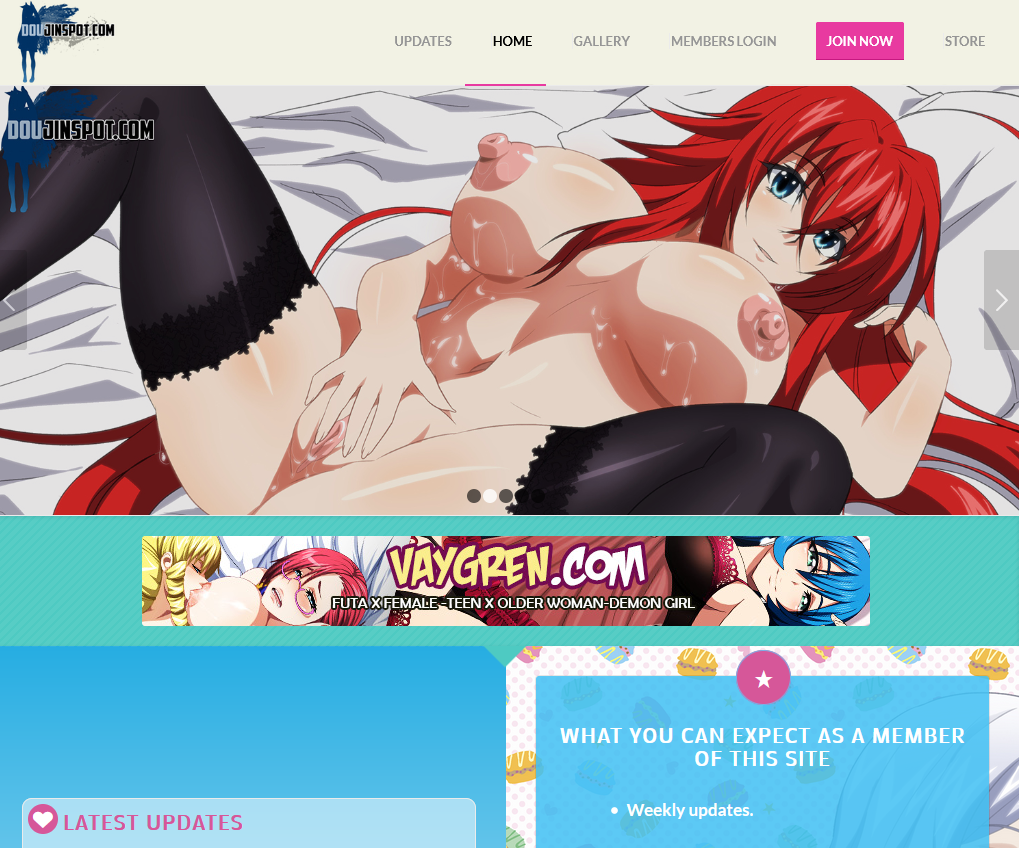 DoujinSpot
Right away, the very second I hit the landing page, I see something that makes me really goddamn happy. All of you hentai enthusiasts already know that the genre is plagued by traditional Japanese porno censorship in which all the naughty bits have been obscured by black bars or flesh-colored Tetris blocks. Well, there are manga images of women fingering their uncensored cunts and getting drilled by fully unobscured hentai cocks at the top of the page.
It's not just vanilla perversion you'll find here. As this is a doujinshi site, they have to keep it super fucking kinky to keep up with all the competition serving up Pokémon golden showers vids. One of the full-color porn drawings at the top of the landing page promises anal sex, MILFs, lesbians, blowjobs, feet, and fetishes.
Further down the front page, there's a section of animation OVAs and loops. The Play buttons don't actually play these images, instead pulling up a larger version with a larger Play button you can't click on. That's a damn shame, because the thumbnails show anime chicks eating enormous cock and getting their twats stuffed with the same.
I see some recognizable faces already. Poison from Street Fighter is riding a dude's ding-a-ling, and Chun Li is getting fucked from behind by a futanari. I see familiar elven faces from video games, only with a lot more titty-sucking than I ever saw in any of the Final Fantasy games.
One of the site's biggest gimmicks is that they feature original doujinshi starring your favorite anime and videogame characters. Characters from mainstream entertainment getting groped and penetrated by tentacles are pretty common in the world of doujinshi, but not terribly common on any kind of paysite. That makes me even more curious about what's in store inside of DoujinSpot.