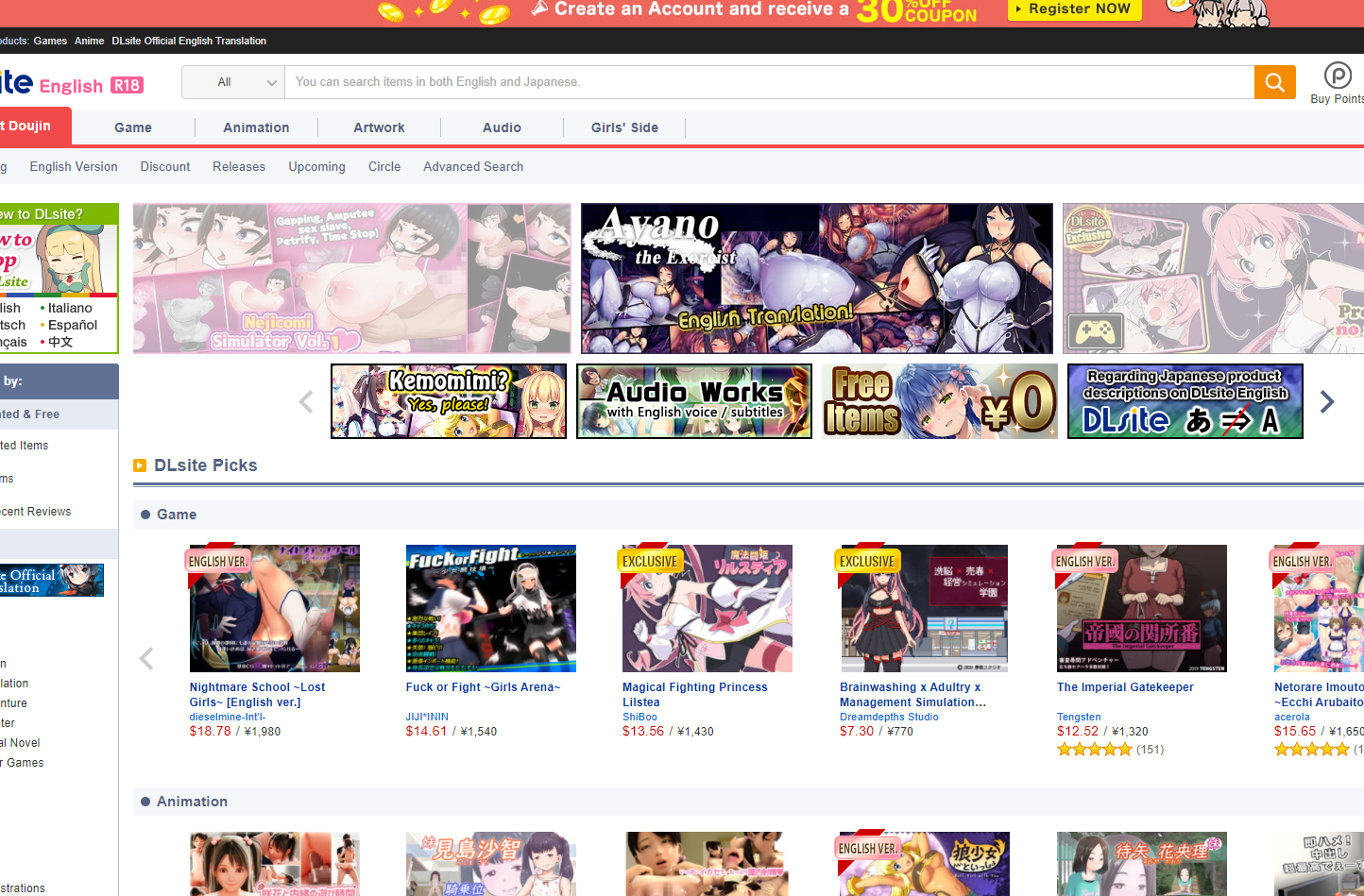 DLsite
The front page of the English section of the site is full of hand-selected DLsite Picks in a number of different categories. Their current featured games include a fox girl entering an impregnation monster and an interactive foot fetish story called Want to Be Trampled by the Same Girl! The exclamation point is there's, not mine, but I agree with the surprise/excitement. It's not your standard BDSM femdom scene where a bitch steps on a dude. This giant broad puts guys in her cooter, eats them and squishes dudes to a bloody mess. Oh, she also does some golden showers that must fall like yellow waterfalls.
Goddamn, you hentai freaks never cease to amaze me. I look at the most depraved shit on the Internet all day long, every day, but I'm still surprised by the depravity I see within minutes of loading up any hentai website.
Featured animations right now include an incest movie about a schoolgirl who likes Papa's penis more than her boyfriend's, a titty job from a French maid with boobs way bigger than her head, and one where a dude gets raped by a cave full of goblins. Their current manga/CG picks include hungry beasts violating women, anime girls getting hypnotized and humped, and a ton of fucking incest. They really love keeping it in the family out there in the Land of the Rising Sun, don't they?
DLsite has a User's Guide linked in the sidebar of the page. It's kind of an unusual thing to see displayed so prominently on something as common as an online porn shop, so I had to take a look. It mostly seems like really basic shit for retards who don't know how to use the web. There is some interesting info mixed in though.
DLsite claims to be one of the biggest online shops dedicated to otaku in Japan, and I can believe that. They got over 100,000 doujinshi, indie games and other content. It's all digital sales, with nothing to buy through the mail and worry about your mom finding before you can get your jizz all over it.