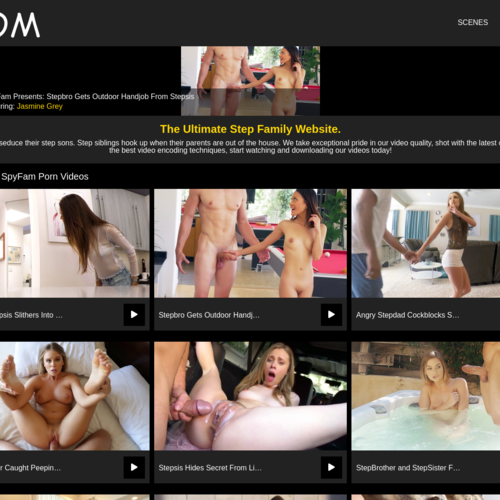 SpyFam
The site is all about blood tainted dicks pussy slamming and even if not in a literal way, I would say the imaginations drawn from their kind of shit is simply crazy ASF! I mean who wants to admit ever having a crush on their parent's step or not or even some silly and rather stubborn siblings, definitely not me. Also, the thought of realizing that shit whether in the fictional no or delusional world is also a bit whack and yet equally thrilling. Damn! It's all for the fun of it thou so why the fuck not?
For starters, these motherfuckers surely know how to whet the appetite of all their knack head fanatics pretty nicely with well played out porn previews. I mean, we all love a mood setter, don't we? Well, their pages look rather fantastic, in fact too fantastic that you won't even notice a couple of Ads banners struggling too hard to remain visible. And you can bet that I really appreciate straightforwardness, which is basically why I had no trouble whatsoever navigating the site and finding the type of videos which is rather amazing if you asked me.
Incest porn is kind of a thing for most people even though I am sure not so many people would care to admit that even to their shitty selves. And it's pretty crazy to even try and think or even imagine the beauty that lies in shit like; sons eating up their mommies wet cunts, daughters sucking their daddies cock, mot joining in some sex fun with their daughter's boyfriends or girlfriends and so many more outrageously erotic shit.